Twitch is a popular video live-streaming website that allows you to share exciting gaming experiences with your viewers. The site allows for self-promotion. However,  there remains the issue of promoting new accounts. Many Twitch users frequently ask, how do I add links on twitch bio? In this article, I'll show you how to add links to Twitch bio.
Can you put a link in your Twitch bio?
Yes, you can put a link in your Twitch bio. Twitch has recently released a new update on their website allowing users to add links to their Twitch bios. This is a great way for streamers to promote themselves and their content easily and effectively.
Create your own free link in bio page
Ready to simplify your online presence?
With Pushbio, you can;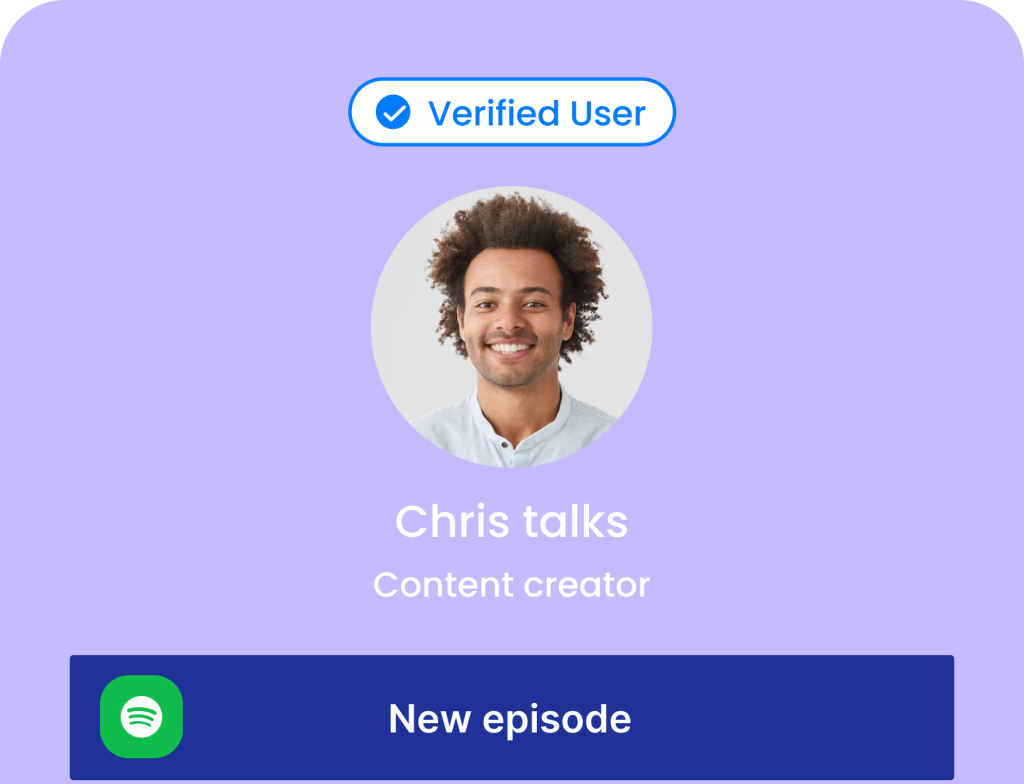 Create your own free link in bio page
Ready to simplify your online presence?
With Pushbio, you can;
A good twitch bio will contain links as a means of creating exposure and awareness for your other contents. It's also worth noting that you should include links to social media accounts such as Facebook and Instagram as well as YouTube videos or other websites where there is the written content.
How to add links to Twitch bio
When it comes to what to put in twitch bio, it doesn't have tp be all the information. However, its always important to include a link to an external source to help your audience locate your other contents.
1. Open Twitch and go to Creator Dashboard
Open Twitch and go to Creator Dashboard. Now that you're in the Creator Dashboard, click on "Edit Bio" in the menu bar at the top of your screen. This will open up a text box where you can add links and other information about yourself.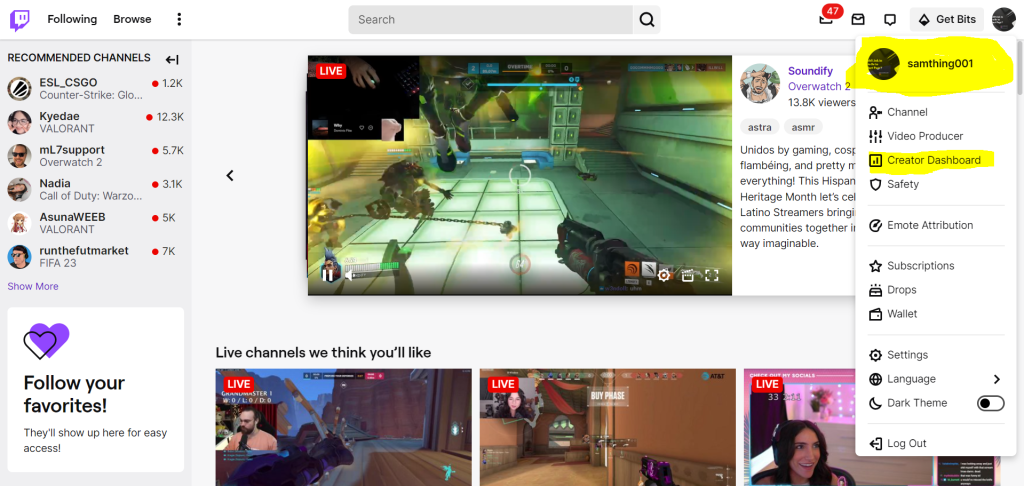 2. Press Settings and then Channel
First, log into your Twitch account and go to your profile. From there, press Settings and then Channel.
Here's where you can add a short bio, which can include a link if you want to. However, I think you should use this space to tell your followers more about you.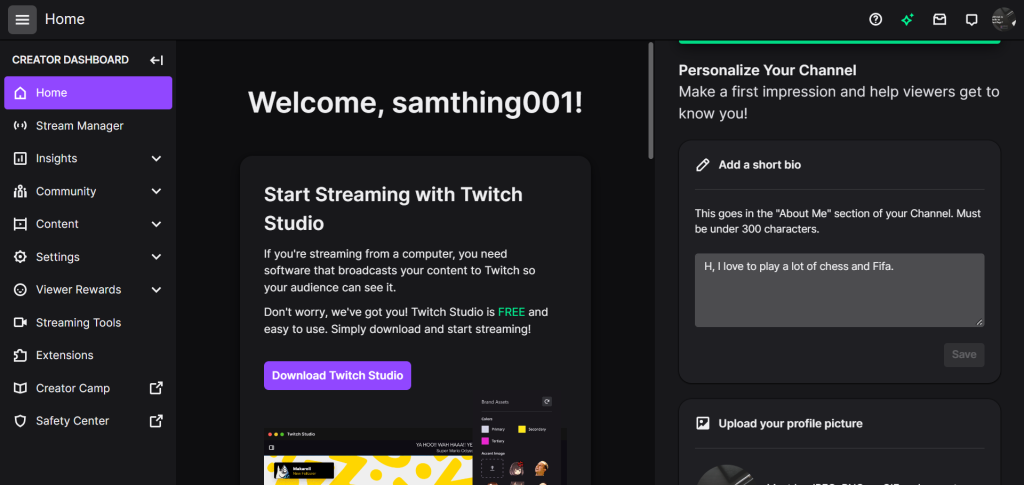 3. Scroll down to Social links
Scroll down to the Social links section. Add links to your Twitch profile, the home page for all your Twitch activity. You can link to your video library where you can watch past streams, channel subscriptions a list of other channels that you follow, and streaming schedule, and your upcoming live dates.
Add links to your Twitch channel, where most of the action happens. This includes information about when you're streaming next, what games are being played during that stream, and a list of other streamers who have partnered with you so they can share their own content using this same space.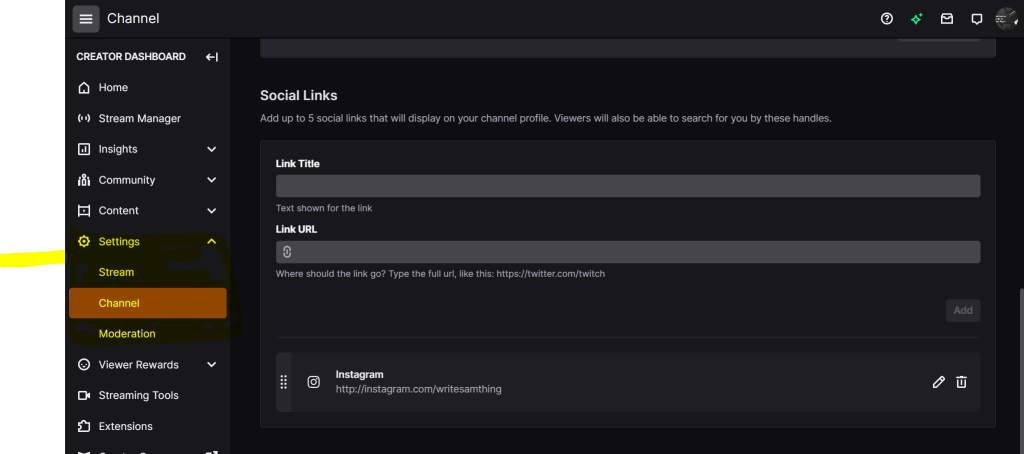 4. Enter a name for your link in bio
The name of your link should be short and easy to remember. It should also have something to do with the link, if you're linking to a new channel, for instance, maybe you could use its name or something similar as your bio name. Finally, don't use special characters in your link title because Twitch's system doesn't support them.
5. Press Add to save the link to your Twitch profile
Once you've chosen and added a link, simply press the Add button to save it.
You can also add links for up to five social media platforms including Twitter and Discord. This is useful if you want to include links specific to your Twitch account or simply want to try another platform.
Adding Multiple Links to Your Twitch Bio
Twitch has to be the most generous social network because the site allows you to add up to 5 links. But what if you want to add more? Or what's the use of five different links when you can have all of your links in one link-sharing app like pushbio? You can have as many links as you want with a push bio account and you can even Embed your twitch streaming link into pushbio. You can then share it on other social media platforms.
Create a pushbio account; and follow this guide on how to setup a biolink page
How to Embed Twitch on Your Pushbio Biolink Page
To embed your Twitch streaming link on your bio link page, simply follow the guide below.
Click on your biolink;
On the next page, click on the Add Block button;
Search or Locate the Twitch block and click on it;
Paste the link to the twitch content into the field marked Twitch URL;
Click on Submit to complete the embed process.
Conclusion
You can now add links to your Twitch bio. If you want to make it easier for viewers to find your social media accounts or website, we recommend adding them all on a single page and linking to your Twitch bio. That way, viewers can see your links at once without having to hunt down each one individually.
In the meantime, you might want to take some time off from streaming so that your fans won't get sick of seeing you too often in their feeds.

Consolidate your online presence, boost engagement, and start growing your audience with a single link