In case one of the major concerns you've been having is how to put a link on Instagram bio, this post got the solution for that.
It is a known fact that the number of places you have access to put a link on Instagram is high limited to just one. Putting a link on your Instagram bio, we all know it is an express route to drive more clients to your websites, but it becomes saddening that Instagram doesn't give this opportunity expressly.
Why? You may wonder. This decision by Instagram has been a point of debate for a long time, and there seems to be an apparent (possibly a justifiable) reason to this. Limiting the use of links on Instagram has been necessitated to curb people who use self-promoting links to spread spam on Instagram. And as you know, such spam is a very common element of posts and comments.
So, to prevent what other social media platforms are trying to control, Instagram has taken this proactive measure to control how users add links to their Instagram bio and other activities on the platform.
Flipping over to the other side of this story, you can tell that a lot of people (like you) who need to put a link on their Instagram bio to promote their businesses, as well as other activities, are limited due to others' illegal activities. See, if we had no spammers around us, I trust there would be no need for Instagram to limit the number of links that can be added to the bio.
Amidst all these, the fact that we can add one bio link is a good news. This post is designed to help you with the steps to add link to your bio (without hassles). Like you would want to know as well, you can now drive as much traffic as you wish to your business website with just a link on your Instagram bio. (We have published an article to guide you on how you can optimize your bio link to drive more traffic). 
Without further ado, let's dig into it right away.
How To Put A Link On Instagram Bio
While getting already happy about the fact that you can put a link on your Instagram bio, note that you can only put one clickable link on your Instagram bio. This means that you have to think carefully and choose wisely which link you want to have on your Instagram bio and also with the help of PushBio linking tool, you will be able to create a tree of links with a single link.
Steps on How To Put A Link On Instagram Bio Using Mobile App?
Login to your Instagram mobile app
Tap the "human icon" at the right bottom to open your profile
Tap on "Edit Profile" that appears at the top of your mobile device
Write a custom description you would like to add (Maximum of 150 characters)
Write the link to the site you wish to add (e.g., http://yourdomain.com)
Add other links as you desire by tapping on the "@" icon then followed by the profile's handle
Add hashtags by tapping "#", then input the hashtag you are associated with.
Tap on "Done" to save all the changes you've done.
Steps on How To Put A Link On Instagram Bio Using Web Browser?
1. Login to your Instagram account (If you already logged in, proceed to step 2)
2. Go to the Edit Profile section on your account page.
3. Tap on "Edit"

4. Type in the URL of the website you want to link in your bio in the "Website" section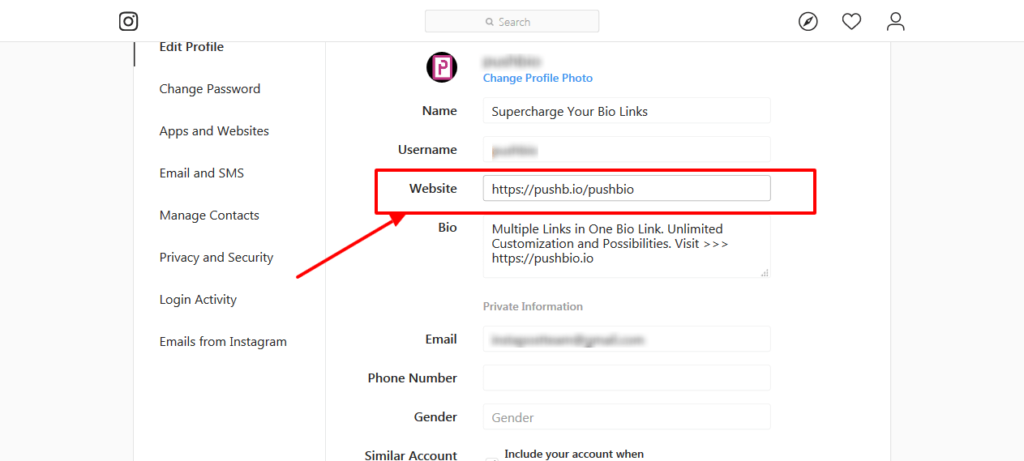 4. Tap "Submit" to save the changes. You've successfully add a clickable link to your bio on Instagram.
That's all. Simple, I guess. Yes, that's exactly all you need to do to put a link on your Instagram bio.
Take Away
The question about how to put a link on Instagram bio is one that is worth asking. So, if that has been a tough question to you, and one that needed an urgent answer, I trust that this post has done justice to that with the simple-to-follow steps.
Yes, you can now draw as much traffic as you want to your website with a link on your Instagram bio section.