Instagram is now more than just a platform to share photos as it has evolved into a multifaceted social media hub. Today, users of the platform can connect, shop, and even conduct business. But how can users pay for the services and goods purchased? Can you send money via Instagram? Or, more importantly, can you send payment through Instagram?
In this blog post, we'll explain how Instagram has evolved into facilitating digital payments. We'll explore the various features that allow you to send money on this popular social media platform. Uncover the details of how Instagram is changing the way its users handle financial transactions.
Create your own free link in bio page
Ready to simplify your online presence?
With Pushbio, you can;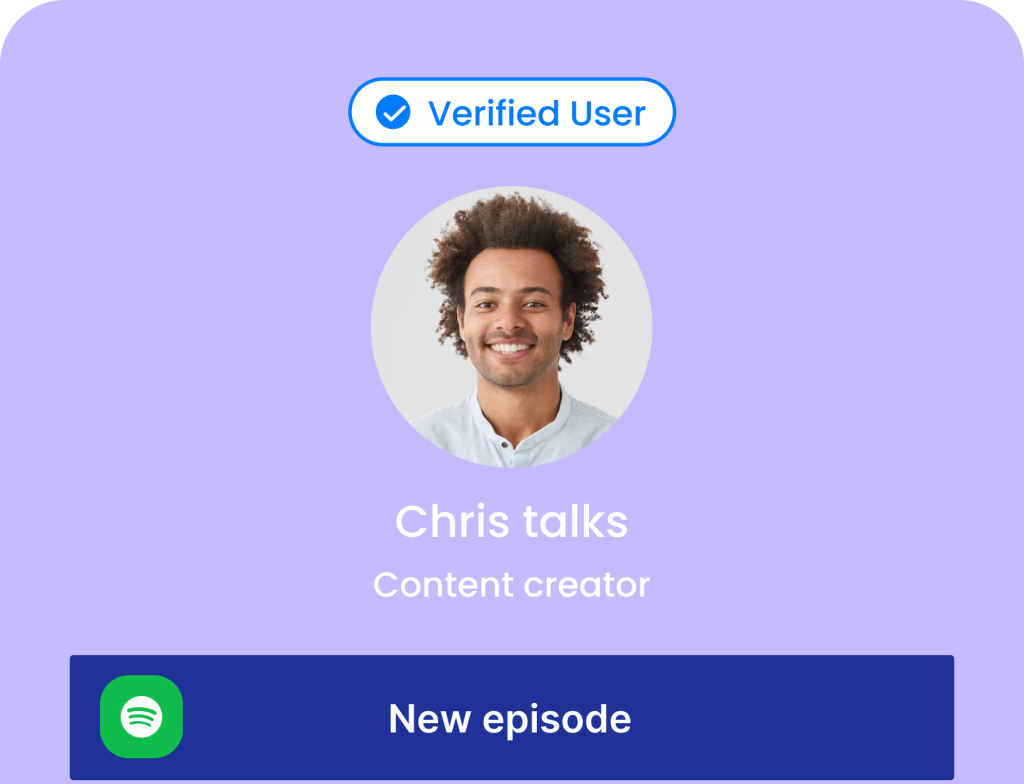 Create your own free link in bio page
Ready to simplify your online presence?
With Pushbio, you can;
Can you send money to someone on Instagram?
Yes, you can send money using Instagram. Instagram offers features that allow you to send money to friends or make purchases within the app. The platform is not just for photos and stories anymore; it's also becoming a place for digital payments. This means you can easily split bills with friends or shop without leaving the platform. 
What are the payment methods for Instagram Shop?
Instagram offers multiple payment options to its users to make payments for goods and services when using its Shop services. With multiple options, users can decide which payment method to use based on personal preference. Here are the payment options available on Instagram:
1. Using Meta Pay
Meta Pay on Instagram simplifies the buying process, offering flexibility to suit your shopping preferences. When you're scrolling through Instagram and spot something you'd like to buy, Meta Pay can make your shopping experience more convenient. However, Meta Pay is not available across Instagram.
Instagram users can use Meta Pay whenever they come across a product that says "Buy on Instagram" and offers options like "Add to Cart" or "Buy Now." However, if you see "View on Website" on the product page, your transaction will take place on the seller's website, and Meta Pay won't be an option.
If you're ready to buy the item from a seller, simply tap "Buy Now." This will take you to the checkout process, where you can use Meta Pay to complete your purchase swiftly.
Alternatively, you can save the item for later purchase by saving it to your Wishlist if you want to keep it handy for future reference. Users can also add to cart to buy multiple items from the same seller in one go.
2. Using the Payment in Chat option
Instagram's "Payments in Chat" feature makes it easy for users in the United States to shop from small businesses, all while keeping track of their orders, thanks to direct messages. However, it's crucial to know that this feature is not available globally, and Instagram did not give a timeframe for when they intend to make it widespread. 
Here's how it works:
If you're interested in buying from a small business, you can begin by sending a direct message to the seller.

In the same chat conversation, you'll be able to both pay for your order and stay updated on its progress.

Once you decide to buy something, the seller can send you a payment request.

When you hit "Pay," you'll be prompted to add and review your payment info and shipping address.
This seamless process ensures that you can shop from small businesses on Instagram without any fuss. It's important to note that PayPal handles the payment processing.
3. Using the Payment method options
Here is the process of adding payment methods in a simple, easy-to-follow manner:
Open the Instagram app on your device;

Tap your profile icon, which is located at the bottom right corner;

In your profile, you will see three horizontal lines in the top right corner. Tap on them;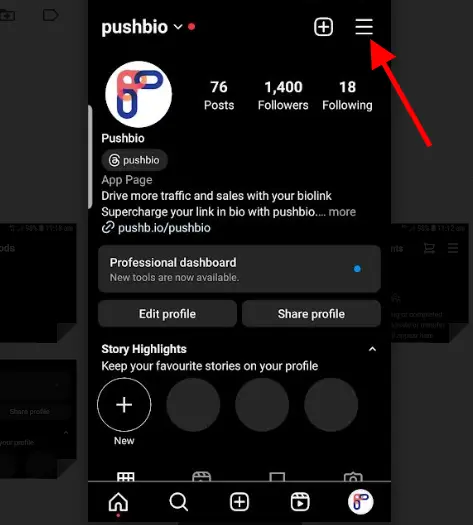 From the menu that appears, scroll to and click on "Orders and Payments;"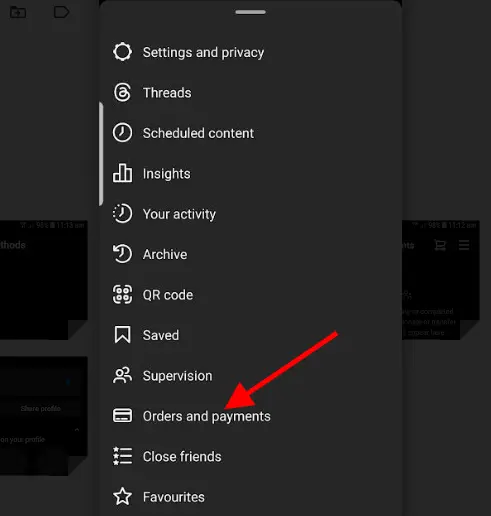 You will see an option that says "Payment methods." Tap on it;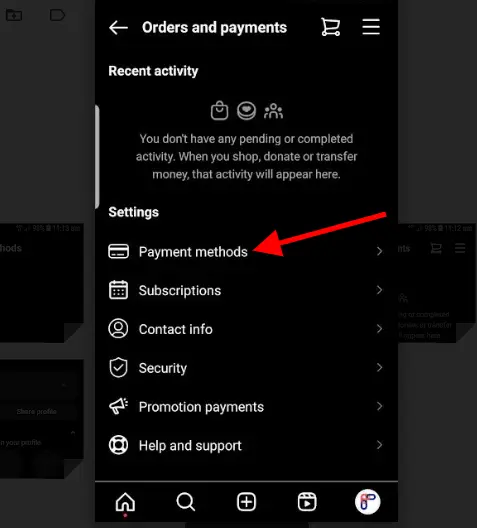 Under "Payment Methods," tap on "Add Payment Method;"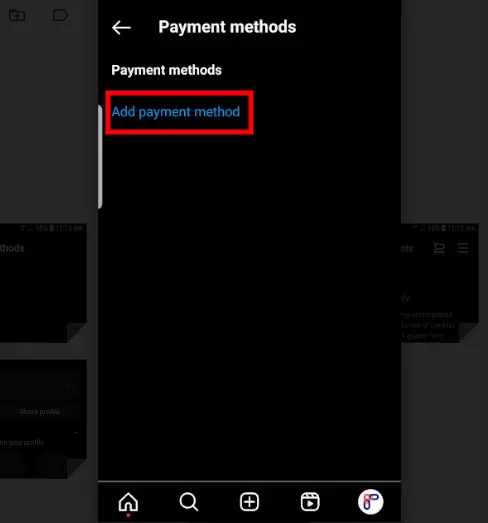 Instagram offers various payment methods, such as credit or debit cards, PayPal, and Shop Pay;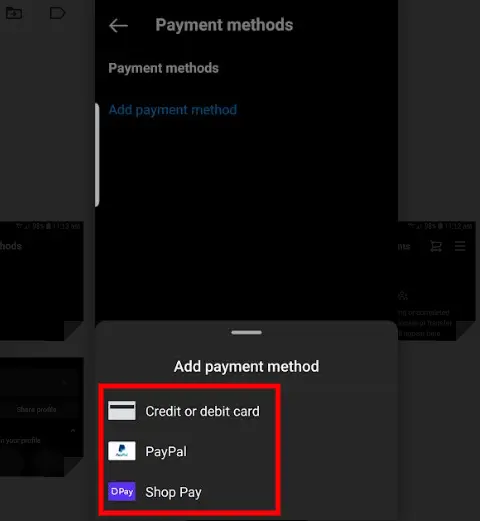 If you pick the "Credit or Debit Card" option, you will be required to enter your payment details, such as card number, expiration date, CVV (the three-digit security code on the back of your card), and your full billing address.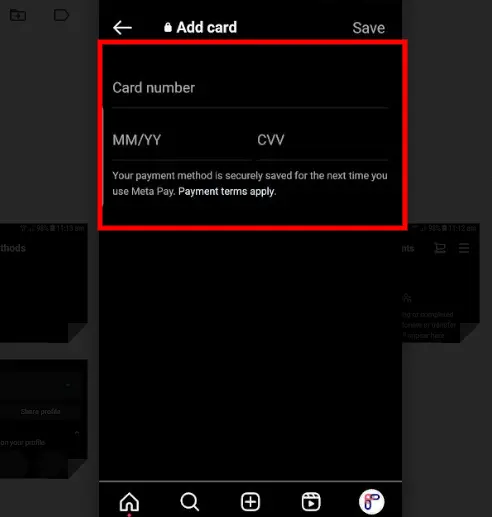 After entering the required information, Instagram will save your payment method.

If you pick the "PayPal" option, you will be redirected to the PayPal login page. Enter your login details to continue.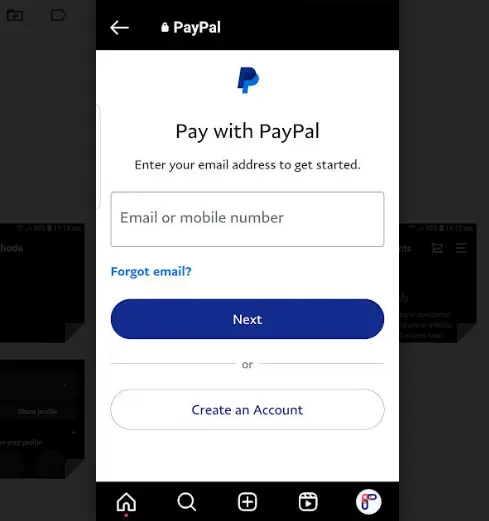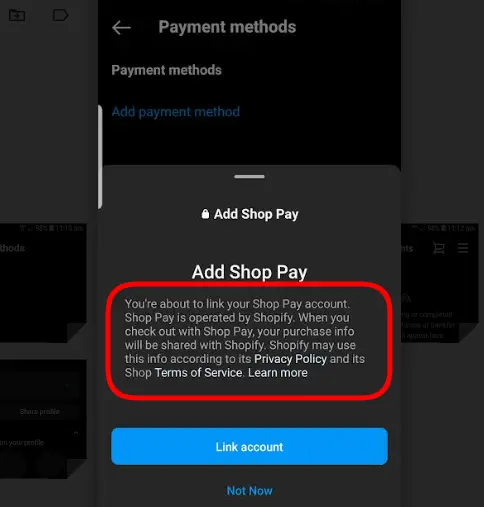 With your payment method set up, you can use it to buy products from the Instagram shop. You can also promote your posts or make other in-app purchases. If you ever need to change or add different payment methods in the future, you can also do so. You can revisit the "Payment Methods" section. This allows you to remove or add methods as needed.
Is Instagram safe for payment?
Instagram offers multiple payment features which are often considered safe. The platform takes security seriously as they employ encryption to protect your payment information. Instagram also allows you to control who can see your payment activity by adjusting your privacy settings to keep things private.
However, users need to remain cautious with how they share personal information. Don't share sensitive details in DMs, even during transactions. Additionally, ensure your Instagram app is up-to-date. Updates often include security improvements. Finally, if you encounter any suspicious payment requests or issues, report them to Instagram.
What payment methods can I use for Instagram Ads?
Paying for your Instagram ads is a crucial part of your advertising journey. The method you choose impacts when and how you pay. However, it's essential to keep in mind that the payment methods available to you may differ depending on your country and the currency of your Meta ad account. The options accessible in one location might not be the same as those in another.
Instagram allows you to make a choice when you're setting up your first ad on Instagram. Users can pick between automatic or manual payment methods. If you opt for automatic payments, Instagram will charge you when you reach a specific spending threshold. This method is suitable for those using PayPal or most credit and debit cards for ad purchases.
Manual payments involve adding money to your ad account upfront. As you run ads, Instagram deducts the costs from the prepaid balance, which can occur daily. Manual payments are the way to go if you prefer a manual payment method like PayTM.
Wrapping Up
Instagram offers you the ability to send money, make purchases, and support your favorite businesses, all from within the app. With the right payment method, you can unlock a world of opportunities at your fingertips. However, it's essential to keep an eye on Instagram's updates, as they often bring innovative ways to enhance your social and financial experiences.

Consolidate your online presence, boost engagement, and start growing your audience with a single link