A lot of people indeed like to share content from one platform to another on social media. This is one of the reasons users want to share video from Twitter to Instagram and vice versa. Thankfully, in this current dispensation of information technology, there are seamless ways of sharing information from one platform to another.
Unfortunately, Twitter does not provide a direct means of sharing tweets, images and videos from twitter to any other platform. Though you can embed tweets but that seems to be a hell of journey. In this article, you'll have the steps you need to take when sharing a video from Twitter to Instagram. But before we start, I will like to remind you of the danger that is ahead as well.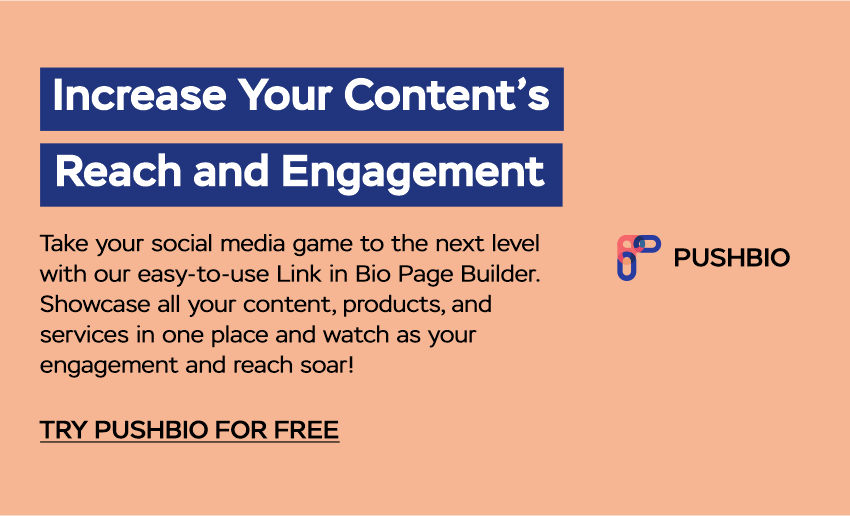 There are Copyright laws that may apply to some content that was originally tweeted. So, if you are not legally eligible to share such content, sharing such on another platform may have you face legal sanctions.
Are you looking for a way to share a video from twitter to Instagram? While this isn't the easiest task to do, I can assure you that there are some cool tricks to go about this. But before learning how to share video from Twitter to Instagram, there are a few things to be aware of.
Twitter currently supports MOV video and MP4 video format on mobile applications. Similarly, the web supports the MP4 video format with an H264 format with AAC audio. When it comes to uploading videos, you can upload up to 512MB, but you should edit it to about 2minutes 20 seconds or less than that in length.
How to upload videos on Twitter
Before discussing how you can share video from twitter to Instagram, here is how to upload videos on twitter.
There are four different ways to share/upload videos on Twitter:
1. Upload
For you to share your videos on twitter. You can open your app on the phone and upload it directly. If you don't have a Twitter app, you can easily download it from the Google Play Store.
2. Record
Another way to share your videos on Twitter is to record a video, edit, and share the video from your Twitter app. If you use iPhone or Android OS, Twitter 4.1 and higher will give a nice output.
3. Import
There another option of using your Twitter app for iPhone or iPad to import videos from your device. This will help you to share your videos on Twitter.
4. Go Live
You can go live with your Twitter app. You can learn how to create a live video from your twitter app.
How To Record A Video For A Tweet?
When recording a video for a tweet, its either you click the tap button from the top menu, or you swipe left the timeline. Then, press and hold the capture icon to record your video. Your video is set for a tweet.
You can also add a video to a tweet by tapping the Tweet icon to upload or take the video to add to your thought. That said, let's quickly look at the second way of sharing tweets and videos from Twitter to Instagram.
1. Sharing video from Twitter to Instagram using a link
Similar to sharing tweets and images from Twitter to Instagram, one of the simplest way to share a video (which must be within the video format and duration discussed above) is by copying the link of the video to your Instagram post caption or Instagram Story where your followers can click on the link to be redirected to twitter to watch the video.
2. Sharing video from Twitter to Instagram using Twitter video downloader
Another option on how to share video from Twitter to Instagram is to download the video and repost on Instagram. However, Twitter doesn't have a feature that can enable you to do this with a click of a button.
Thankfully, you can download videos from Twitter using a couple of Twitter video downloading apps such as Video Downloader For Twitter, Save Twitter Video, Twitter Video Downloader, Saver For Twitter to download a video from Twitter and after which you can then share the saved video on your Instagram post.
Amongst these Twitter video downloading tools, we shall be using Saver For Twitter to illustrate how you can save a video from Twitter on your Android phone.
Click here to download the Saver For Twitter App
Open the app and click on "By Browsing Twitter" to download a video by browsing
Locate the video you would like to download and click on it
Click on the download icon right under the video
Click on save media from the menu that appears to save your video for offline use.
Alternatively, you can use the video link to save the video from Twitter
After opening the Saver For Twitter App on your device
Go to the menu and tap on "By Twitter Link"

Select the video from the list of video that appears
Copy the video link and paste it in the box that appears to generate the video
Once the video appears, click on it and then click on save media
Tap "Save" to download the video into your device
With these, you've saved your desired video which you want to share on Instagram. Now, proceed to your Instagram account to upload the video you saved from Twitter. A major advantage of using this method is that by downloading the video first and using some simple editing tools, you can take your repost to the next level. 
3. Sharing video from Twitter to Instagram automatically
Another way to effectively share video from twitter to Instagram is by using a third party tool. There are various services that offer the opportunity to automatically share post from one social media account to another.
Here is a simple guide on how to post tweet, images or videos from twitter to Instagram using RSS.app and OneUp.
OneUp is tool to recycle your social media post while RSS.app is tool for generating feed.
Step 1: Go to RSS.app, you can use the free plan.
Step 2: Create a feed of the twitter handle you want copy tweet from.
Step 3: Copy the Feed URL you just created and visit https://www.oneupapp.io/ (you need to register an account).
Step 4: On OneupApp dashboard, click on schedule post and select "Auto-post from RSS feeds".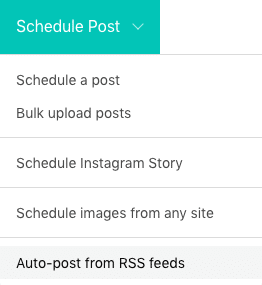 Step 5: Paste the feed url you copied from RSS.app, choose a category and select the account you want to post the tweet to, in this case, select Instagram and connect your IG account.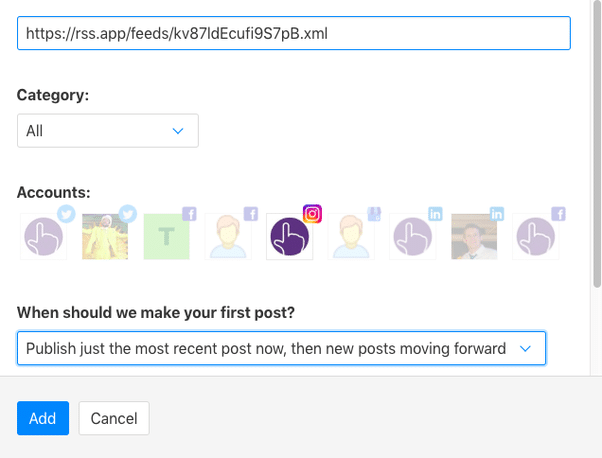 Step 6: That's it, you are done.
Note: This process will post all tweets from the handle to your Instagram account automatically, so make sure you have the right to share content from the handle, and it is recommended you share content related to your niche.
Sharing tweets from Twitter to Instagram involves saving the tweet as an image on your smartphone and then sharing it on Instagram. However, this may change slightly depending on whether you want to share an image that has been tweeted or the tweet itself. In general, here is how to go about it:
Find the Tweet that you want to share and tap on the Share icon;

Look for the "Instagram Stories" option and tap on it;

This will automatically launch your Instagram app and create a new Story draft with the Tweet as a sticker that you can customize;

You can resize, reposition, or add any creative elements to make your repost even better;

Once you're happy with your creation, choose your share settings and hit "Post."
This method is so much easier because you can share any type of Tweet.
1. Sharing an image in a Tweet to Instagram
Go to the tweet, click on the image;
For mobile devices, click on the 3 vertical dots at the top right corner of the image to save the image into the mobile device;
Go to your Instagram app and share the image from the place you downloaded it into in your device;
For desktop or laptop, use web browser apps like Firefox, Chrome, or Safari click right on the image and select Save Image As…
Click the Save Image As… to save the image to your device. Choose where you want it to save. You may choose the download folder or any other place folder;
Endeavor to feature the source of the image in the Instagram post. This will help the original author to get credit for the image as well.
2. Sharing a Tweet From Twitter To Instagram by screenshotting 
You can share a tweet as an image by grabbing a screenshot of the tweet and then share the saved screenshot image on your Instagram account. The screenshot process will vary depending on your device. But in general, it will capture the entire screen of your device which you can then crop or edit to show only your tweet in an image format.
FAQ
How Can I Dock A Video On Twitter?
There is provision for docking of pre-recorded broadcast or video from Twitter for Android app. Video docking enables you to watch videos while you are still using your Twitter. You can scroll through your timeline or send Direct Messages.
To start a dock video, tap the dock icon at the top right.
To end the docked video, slide the docked video towards the edge of the screen with your finger until it disappears. Alternatively, you can click on a different video to automatically close the docked video.
How To Delete A Video After Tweeting
You may want to delete your video after tweeting. Sure, it is possible to delete the photo or video that you tweeted. Simply go to the tweeted photo or video and delete the tweet itself.
Conclusion
In case you've been encountering challenges on how to share a video from Twitter to Instagram, there are no more worries about how to go about this. The various steps above will help you not only to share your tweet and video from Twitter to Instagram, but it will also help you to maximize the features on your Twitter platform. Also, there will be an increase in traffic from your Instagram account to your Twitter profile.

Consolidate your online presence, boost engagement, and start growing your audience with a single link