Link-in bio tools are essential for content creators who wish to promote more than one link on their social media profiles. They are also great for distribution since you don't have to worry about sending links one at a time. You can forward a single link and let the audience connect to other links.
As a content creator, you understand the importance of promoting your work and making it easy for your audience to access your content. However, with the increasing number of link-in bio tools available today, it can be challenging to choose the one that best suits your needs. Without the right tool, you risk missing out on potential followers, website traffic, and ultimately, opportunities.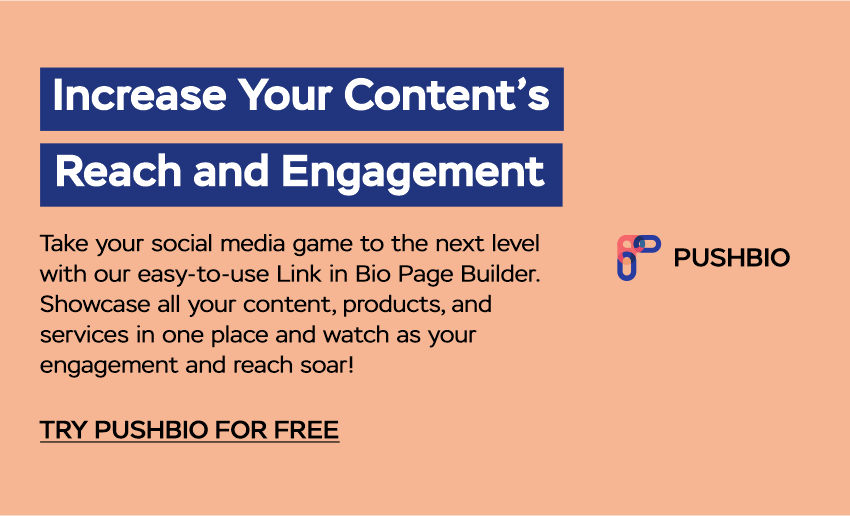 In this article, we will provide a detailed comparison of two of the most popular link-in bio tools available today – Pushbio and Linktree. By examining the features, benefits, and drawbacks of each tool, we will help you make an informed decision on which one is the best fit for you and your content. So, let's dive in and compare Pushbio vs Linktree, and find the link-in bio tool that works best for you.
Pushbio Explained
Pushbio is an all-in-one, one-stop shop that lets you centralize all your content in one location for easy access by anyone with a link. The platform has been around for some time, making it a strong name in its category. It comes loaded with tons of features and customization, which rivals most of the other tools on the market.
Linktree Explained
Linktree is a link-in-bio tool that lets you get a collection of other links to inform your audience via a single URL. This means Linktree is useful for promoting multiple links at once. Linktree is one of the most popular link-in-bio tools, as it was the flagship bio link tool launched in 2016. It has since grown rapidly and has a fair share of the market. Its users range from content creators of various sixes to companies and celebrities.
Pushbio vs. Linktree: Major Differences
Both Pushbio and Linktree are renowned names in the link in bio category. This is primarily because they are the two most prominent tools since they are easy to use and come with features that make them appealing. Here is a detailed comparison of Pushbio vs. Linktree:
1. Ease of use
Pushbio
Asides from an easy account creation process, Pushbio boast of a simple and easy to use interface. the tools and feature present on it are intuitive and you can use them with no prior knowledge. The platform used a drag and drop interface so you need no coding skill. The user dashboard on Pushbio provides fast and reliable access to the features and services offered.
Linktree
Similarly, Linktree also uses a drag and drop feature to help users create landing pages. Once signed up, users have access to the platforms resources which are pretty intuitive.
Linktree is simple to use and user-friendly. its a convenient tool for managing and promoting online presence.
2. Pricing
The cost attached to each service is also a major difference. And when looking for a link-in-bio tool to use, the price often plays a big role in the decision-making process:
Pushbio
Pushbio provides a flexible pricing option as it has both free and paid versions. Here is the breakdown of the pricing options available on Pushbio:
Free Plan
Pushbio's Free plan lets you enjoy basic features to give you a taste of what the platform has in store. However, users need more access to the more essential and premium features. The free plan lets you test whether Pushbio is suitable for you.
The PRO Plan
The PRO plan on Pushbio costs $4.99 per month and is a considerable upgrade from the free plan. It comes with a discount if you choose to pay annually and provides access to a more significant number of features that make your journey smooth. This plan features all the perks of the free plan with extra functionality. It is excellent for individuals, influencers, content creators, or anyone working outside a team.
The AGENCY Plan
If you work in teams or are a large-scale business, you need unlimited access to a rich collection of valuable tools and features. The AGENCY plan option of Pushbio is best suited for you.
This plan lets you do much more without fear of restrictions or limitations and costs $20. It features all the tools present in both the Free and Pro plan with unlimited access and API access.
Linktree
The pricing of Linktree is flexible as it has both free and paid versions. Linktree does not accept cryptocurrency, and a transaction fee is charged for tips and donations. Here is the breakdown of Linktree pricing:
Free plan
You can use Linktree for free, albeit with a lot of restrictions. You can accept payments and donations on its free version. Also, you have access to limited analytical data on this plan, but you can still view the number of clicks, views, and even the average time to click.
Starter plan
The starter plan is the cheapest Linktree subscription. It costs around $5 per month, but there is often a discount if you pay annually. This plan includes all the perks of the "Free plan" and gives you access to advanced themes, video backgrounds, custom buttons, and others. You can also schedule your links and use all the monetization tools the platform offers.
Pro plan
The Pro plan is often considered by many as the perfect plan. It gives you access to tools and features that is often enough for individuals and most brands. The Pro plan costs $9 per month, but it also features a discount if you pay annually.
This plan slows you to remove the Linktree branding that comes with your page, meaning you have greater personalization of your page. It includes the perks from both the Free and Starter plan and access to all advanced features on the platform. You get to include email and phone number collection, embedding your latest Tweet and YouTube video.
The Premium plan
Linktree's Premium plan is the most expensive of the packages on the platform. It costs $24 but still has a discount for annual payments. This plan combines all the perks of the other plans and provides you with a VIP-like treatment in growing your reach and monetization processes.
It provides a dedicated customer success manager whose duty is to help you by maximizing Linktree. You also get the ability to export your data plus an upgrade in customer service response time of 4 hours.
3. Branding and customization
The appearance and feel of your bio link pages are one of the most important aspects of your page. It is the first thing visitors notice after landing on your page, and as such, it requires special consideration. Here is how both platforms stack up against each other:
Pushbio
In terms of branding, Pushbio gives you the most flexibility. You can edit the general theme of your Bio link page by picking from an array of top-notch themes. If you don't see what you want, you can create your custom theme for more personalization. In addition, you can choose a background color and upload a video background or an external image.
You can also pick from 10 available fonts to describe your text as well as set the size of your fonts. Pushbio also lets you improve your SEO by editing your page title, Meta descriptions and setting custom opengraph images.
Linktree
The platform provides you with several options for customizing your page. You can choose from its wide array of predesigned themes with individual color schemes for your page. If you have a paid subscription, you can also use animated backgrounds. You can also choose from an array of link button designs and fonts.
To make the design process easier, you can preview your changes to look at how they will appear on a mobile device on the right side of the dashboard of your PC. The appearance tab allows you to upload your profile pic, set your profile title, and add a bio.
The settings tab on Linktree allows you to prepare your page for integrations with several features, such as eCommerce integrations, mailing list integrations, social icons, and more.
4. Features
Pushbio
A unique selling point of Pushbio is that you can create custom domains for your business and brand. Creating links on Pushbio is an easy-to-do task. You can create Leaplink to send your audience to a specific URL of your choosing when they try to visit your bio link page.
You can use the platform's link-shortening functionalities to considerably reduce your links' length. On Pushbio, you can create links to files for easy access by those you share such links with.
VCard is another feature you can leverage to boost your brand and increase your yield from Pushbio. You can also create QR codes to help you distribute a wide range of information in a square-square grid. Additionally, you can also filter link data sets as well as have the ability to export data in two file formats.
Linktree
The Linktree platform gives you access to unlimited links which you can choose to customize in several ways:
Leap links: you can use this customization to bypass your Linktree to ensure you can redirect your audience to a specific destination.
Priority Links: Use this option to easily display important links to your audience to capture their attention.
Schedule links: You can leverage this option to schedule a time for when your links go live.
Gated links: mostly used for sensitive content; you can utilize this customization to tell the audience about the potential sensitivity of the links' contents. For an audience to progress, they must enter an unlock code or acknowledge their willingness to proceed.
Linktree also allows you to use highlighting effects on links. Additionally, you can include thumbnails or icons to your links to customize them further. And depending on your subscription plan, you can access varying analytics degrees. Here you can view some basic statistics such as link views and clicks.
5. Ecommerce and Integration
Most links in bio tools now can help you make money online directly from your page. You can use them to promote a cause, sell products and services, or request donations. Here is how Linktree and Pushbio stack up against one another in this regard:
Pushbio
Pushbio provides you with five payment providers: PayPal, Stripe, Paystack, Razorpay, and crypto.com. You can make money on Pushbio by adding products for sale that are listed on other ecommerce platforms. You can also integrate MailChimp connection to your page to capture email signups directly from your page.
If you have a physical product you want to sell, you can rely on the Product block to help you drive sales for such a product. Additionally, you can request your visitors to donate by creating a donation link. It's also possible to receive payment on Pushbio by selling your services on the platform.
Linktree
Linktree's Commerce links allow you to take a payment from a visitor directly on your Linktree by monetizing your content. The Tip Jar service lets you take donations directly from your Linktree page. You can also sync your Linktree page with your Shopify collection settings to display your products.
Linktree also offers integration with the "Spring" platform, which you can use to display up to six items from your Spring store. Linktree has three integrated payment platforms that you can use to accept payment: PayPal, Venmo, and Stripe.
6. Analytics
Pushbio
You can add the pixel tracking feature to allow you to keep tabs on your visitors by gathering data from them and their activities on your page. You can also leverage Google Analytics through the Google Analytics Universal ID and the Google Analytics Measurement ID to help further keep tabs on important metrics.
Linktree
Linktree provides analytics that can help users understand how their landing page and links are performing. You get access to metrics such as views, clicks, locations and device used. Linktree users can also add UTM parameters to their links for better understanding of their performance.
7. Security
This is an integral aspect of any link in bio tool, and as such should be taken seriously
Pushbio
The platform has several security features in place to protect user's information and links. Asides from its password prompt and two factor authentication processes, users can enable sensitive data protection. this allows you to enable protection for data that you don't wish to make available to all visitors of your landing page.  in general, the platform comes with an SSL certification to ensure that your data is safe.
Linktree
Linktree uses SSL (Secure Sockets Layer) encryption to protect user's data and links while they are transmitted over the internet. This ensures that the data cannot be intercepted and read by third parties. Users can set a password for their Linktree page, which will be required before accessing the links. This provides an extra layer of security, as only authorized users can view the links on the page.
Linktree also supports two-factor authentication, which adds an extra layer of security to the user's account by requiring a one-time code in addition to the password, to access the account.
8. Support
Pushbio
Users on Pushbio can rely on the live chat bot on the website to communicate with support anytime they need assistance. The bot chat feature is available 24/7. Additionally, users can contact the Pushbio support team via email for assistance with any issues or questions they may have. Pushbio also provides support through their social media channels such as Twitter, Facebook, and Instagram, users can reach out to them through these channels.
Linktree
Linktree offers several support features to help its users with any issues or questions they may have. The platform has an extensive help center that contains detailed articles and tutorials on how to use the platform, troubleshoot common issues, and customize the look of your page. They also have a live chat feature on their website where users can get instant help and answers to their questions.
Users can also enjoy community support on Linktree. The platform has a community forum where users can connect with other Linktree users, share tips and ideas, and ask for help with any issues they may be experiencing.
9. Team collaboration
Pushbio
It's worth noting that, Pushbio offers a team collaboration feature which allow multiple users to collaborate on the same page and manage the links together. This feature is especially useful for brands and agency that work in teams and need to collaborate on a page with multiple people.
Linktree
Linktree does not currently have a built-in team collaboration feature that allows multiple users to work on the same page. However, it's possible to share access to a Linktree page by providing the login credentials to another person, but it doesn't have a specific feature designed for team collaboration.
Can I earn money directly from either Pushbio or Linktree?
Making money off your preferred link-in-bio tool is an additional source of passive income. While this is desirable, not all tools provide this feature.
Linktree is one such tool that lacks this opportunity. However,  Linktree will not pay you directly for using it since the platform has no affiliate program or reward system. However, the platform has other monetization features that make it possible to earn from it by either selling products or collecting donations from fans and audiences.
On the other hand, Pushbio has an affiliate program that will pay you to bring in subscribing users to the platform. Moreover, the affiliate program is open to all platform users, including "Free plan" users.
Conclusion
When choosing between Pushbio and Linktree, the choice comes down to what you need, want, and how much you are willing to spend. Both platforms come with tools and features that you need to build a conspicuous bio link page for use on several platforms. That said, Pushbio edges out Linktree because it has a richer library of features that lets you get more from your bio link pages.

Consolidate your online presence, boost engagement, and start growing your audience with a single link