TikTok videos have become a daily dose of entertainment and inspiration. And more than often, there arises a need to save those unforgettable moments for later enjoyment or sharing with friends. However, TikTok doesn't make downloading videos directly from the app easy. And even when the platform does, the accompanying watermark can be a turn-off.
This is where TikTok video downloaders come to the rescue. These tools offer a way to save your favorite TikTok videos effortlessly. But, with a multitude of TikTok video downloaders available online, one begins to ponder the question: what is the best TikTok video downloader?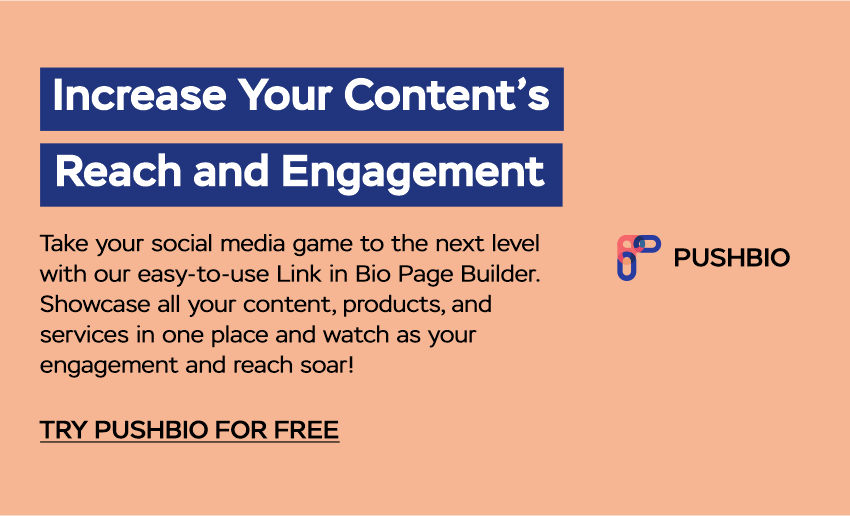 In this article, we'll introduce you to the world of TikTok video downloaders, exploring why you might want to use one, what factors to consider when selecting the right tool, and which ones stand out as the top choices.
Why use TikTok Video downloaders
Using TikTok video downloaders has several advantages, including:
1. Offline enjoyment
Downloading TikTok videos lets you enjoy them offline, anytime, anywhere. Worrying about a stable internet connection or data usage is unnecessary. Whether on a plane, in a remote area, or just want to save on data, having your favorite TikTok videos offline is a game-changer.
2. Effortless sharing
With a TikTok video downloader, sharing your favorite videos becomes a breeze. You can send them to friends and family or share them on social media platforms without any fuss. It's a quick way to spread the laughter, inspiration, or creativity you find on TikTok.
3. No watermarks
You can say goodbye to those pesky watermarks when you download TikTok videos using a downloader. Enjoy the content in its full, unadulterated form without any distractions or added branding.
4. Access to unavailable content
TikTok's dynamic nature means that some content may disappear over time. By downloading your favorite videos, you ensure you have access to them even if they are deleted or made private by the original creator. This way, you won't miss out on memorable TikTok moments.
Is using TikTok video downloaders legal?
The legality of using a TikTok video downloader can be complex and may vary depending on your location and how you use the downloaded content. TikTok's terms of service often prohibit downloading videos without permission from the creators. Violating these terms could lead to your account being banned.
Without the creator's consent, downloading and re-uploading TikTok videos could infringe on their copyright. This may lead to legal issues, especially if you use the content for commercial purposes. Downloading public TikTok videos (those accessible to anyone) may have different legal implications than downloading private or restricted content.
What is the best TikTok video downloader?
When it comes to the best TikTok video downloaders, the options seem almost endless, including the likes of snapTik.App, SaveTik, TT Downloader, and more. At first glance, they might all seem alike, but when you look closer, you'll notice some stand out from the rest.
Below, we will introduce you to a few of the top contenders. Each of these tools brings something unique to the table, making your choice a bit more interesting:
1. SnapTik.App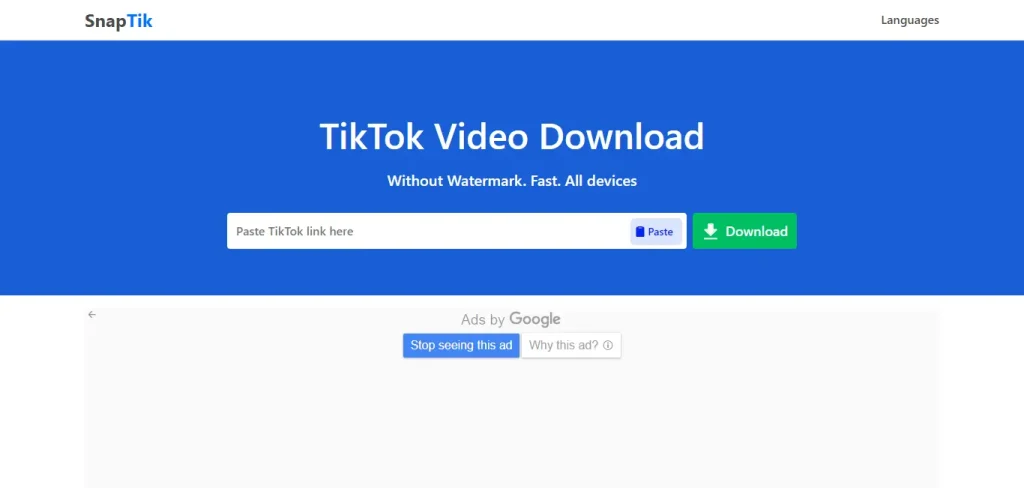 SnapTik.App offers an effortless way to download your favorite TikTok videos without those pesky watermarks. Its user-friendly interface is a breeze to navigate, and it works seamlessly on both PCs and Macs. Plus, it won't cost you a dime to use. In addition to this, Android users can also take advantage of the SnapTik app. To get started with this downloader, follow these simple steps:
Open your TikTok app;
Search for and locate the video you wish to download;
Copy the video URL from TikTok;
Head to SnapTik.App platform;
Paste the copied video URL into the box provided;
Click on the download button to save the video on your device.
2. SaveTok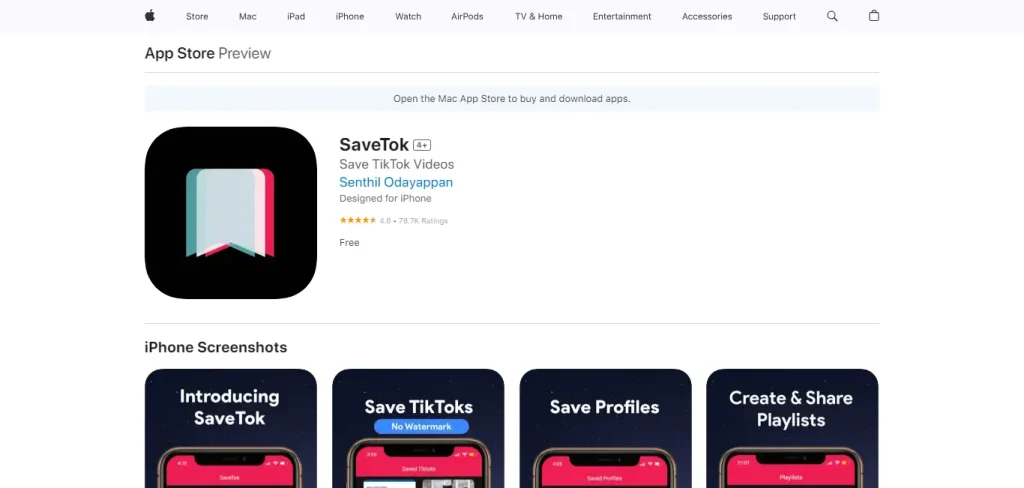 SaveTok is tailor-made for iPhone or iPad users. It's among the top TikTok video downloaders with hundreds of thousands of downloads. SaveTok goes beyond just downloading as you can add captions, receive trending video notifications, copy popular hashtags, and bookmark user profiles. And yes, you can download high-quality TikTok videos and other high-quality profile content without watermarks. SaveTok is your go-to for finding trending videos and effortless reposting.
3. 4kDownload: 4k Tokkit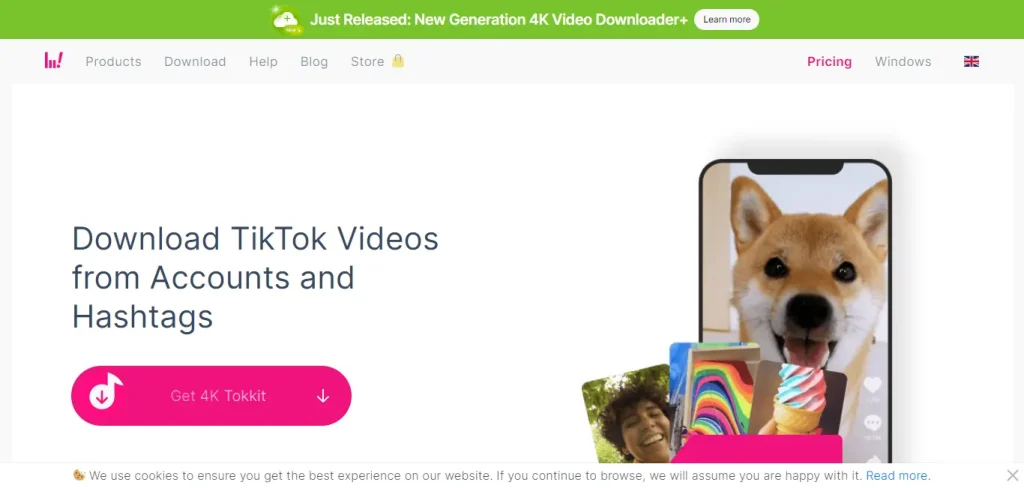 4kDownload offers various ways to download videos online, including its TikTok video downloader, 4k Tokkit. This tool enables unlimited TikTok video downloads in the highest quality format. Start with a free sign-up and switch to a premium plan when you're ready to scale up your downloads. The premium version is worth every penny, especially if you need to download TikTok videos on a larger scale. With features like downloading videos from accounts and hashtags, batch downloads, and HD-quality video backups, 4k Tokkit is a comprehensive solution for TikTok enthusiasts.
4. TT Downloader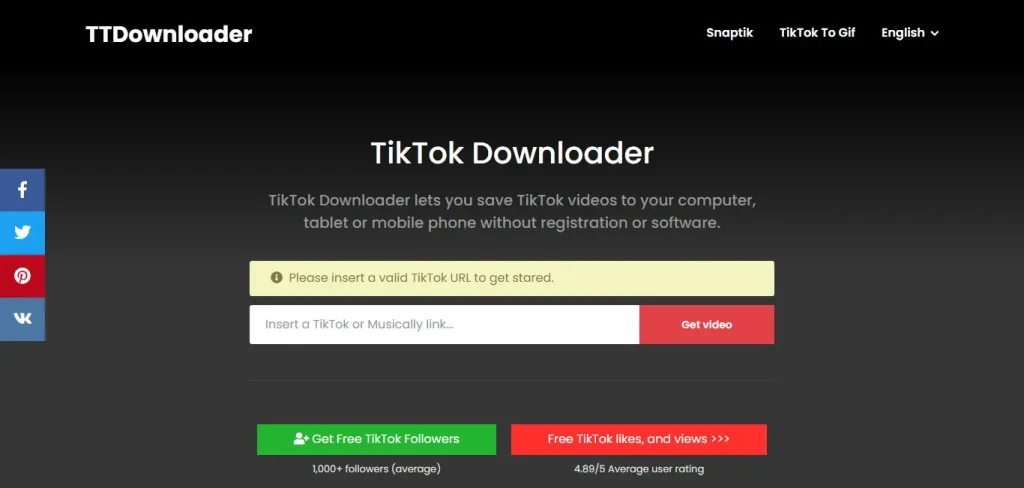 TT Downloader is a fantastic choice for Android users, offering a wealth of features. Say goodbye to watermarks as you save TikTok videos effortlessly. There are no restrictions on the number of downloads, and you can instantly share your downloaded content on your profile or other social media platforms. What sets TT Downloader apart is its ability to download high-quality video and music. Enjoy unlimited downloading and a sleek UI design that makes your experience a breeze:
Open your TikTok app;
Search for and locate the video you wish to download;
Copy the video URL from TikTok;
Open the TT Downloader platform;
Paste the copied video URL into the box provided;
Click on the "Get Video" button to save the video on your device.
5. iTubeGo
iTubeGo is your go-to tool for downloading TikTok videos and is incredibly versatile. It supports a wide range of audio and video formats and provides subtitles when you download videos. You can transform TikTok videos into MP3, MP4, 4K, and HD MP4 formats with a built-in video converter. It's a powerhouse that covers multiple audio and video formats for TikTok and YouTube, Facebook, Instagram, Dailymotion, Vimeo, and more. While a free version allows three video downloads, the pricing plans start at just $9.95 per month, with a 30-day Money-Back guarantee.
Factors to consider when choosing a TikTok video downloader
As mentioned earlier, hundreds, if not thousands, of TikTok video downloaders are out there. However, to pick the best for usage, there are a few criteria a downloader should satisfy. Here are some:
1. Ease of Use
When choosing a TikTok video downloader, it's essential to opt for a straightforward tool. Look for one with a simple interface and clear instructions. A user-friendly downloader ensures that you won't waste time trying to figure out how it works and can quickly download your favorite TikTok videos hassle-free.
2. Compatibility with devices
Consider the compatibility of the TikTok video downloader with your devices. Some downloaders work better on specific platforms, like Windows, Mac, or mobile devices. Ensure the one you choose works seamlessly with your preferred device, ensuring a smooth downloading experience.
3. Video quality options
Not all TikTok video downloaders offer the same range of video quality options. Some may allow you to download videos in HD, while others may limit you to lower resolutions. Depending on your preferences, pick a downloader that offers the video quality you desire for an enhanced viewing experience.
4. Download speed
The speed at which a TikTok video downloader can fetch and save videos varies between tools. Opt for one with a good reputation for speedy downloads. Faster downloaders mean less waiting time, making the process more efficient and enjoyable.
5. Security and Privacy
Ensure the TikTok video downloader you choose is secure and respects your privacy. Some downloaders may come with hidden risks or collect your data. Look for one with a solid reputation for safety, as you don't want to compromise your online security.
6. Batch downloading
If you want to download multiple TikTok videos simultaneously, consider a downloader supporting batch downloading. This feature allows you to save time and effort by downloading several videos simultaneously, making it convenient for those with a large collection of videos to save.
7. Video format support
Different TikTok video downloaders support various video formats. Check if the downloader can save videos in formats compatible with your preferred media player or editing software. Having flexibility in the formats ensures you can use the downloaded videos as you like.
8. Regular updates and Customer support
Select a TikTok video downloader with regular updates and good customer support. Frequent updates ensure compatibility with the latest changes on the TikTok platform. At the same time, responsive customer support can assist you with any issues or questions during your video downloading journey.
Alternatives to TikTok video downloaders
Aside from using TikTok video downloader, there are other means of saving videos from the platform.
1. In-App download option
TikTok offers an in-app download feature for some videos. This way, users can automatically download videos from the TikTok platform without the need for TikTok video downloaders.
Open TikTok on your device;
Search for and locate the video you wish to download;
Click on the share icon (arrow) on the video;
Select "Download video" from the options displayed to begin the download process.
Keep in mind that not all videos may have this option available on TikTok. Consider using a video downloader or another means in the absence of this feature.
2. Screen recording
Another way to save a video from TikTok without a video downloader is to screen record. Most smartphones and computers have built-in screen recording features. To use this method, start the screen recording function on your device and play the TikTok video. The recording will capture both the video and audio. After recording, you can save the video as a file on your device.
Similarly, many screen recording apps are available for mobile devices and computers. Download and install a reputable screen recording app, then follow the app's instructions to record the TikTok video while it's playing on your screen. Save the recording as a video file.
Wrapping up
The best TikTok video downloader ultimately depends on your specific needs and preferences. Various options are available, each with its unique features and capabilities. Before making a choice, consider what matters most to you, such as ease of use, compatibility, video quality, or additional features. Always use TikTok video downloaders responsibly, respecting TikTok's terms of service, copyright, and privacy rights.

Consolidate your online presence, boost engagement, and start growing your audience with a single link