Instagram Stories have redefined how platform users share their moments and memories. A captivating collection of images, videos, and text, these Stories paint vivid narratives that captivate the audience's attention. Unlike regular Instagram posts, stories don't become a permanent part of your profile's layout. Instead, they find a temporary home in a different space lasting only 24 hours.
This setup encourages more frequent sharing and creates a sense of urgency for viewers to catch your story before it disappears. However, what if you could rewind time and relive those precious moments? What if you could learn how to view Instagram Stories after 24 hours?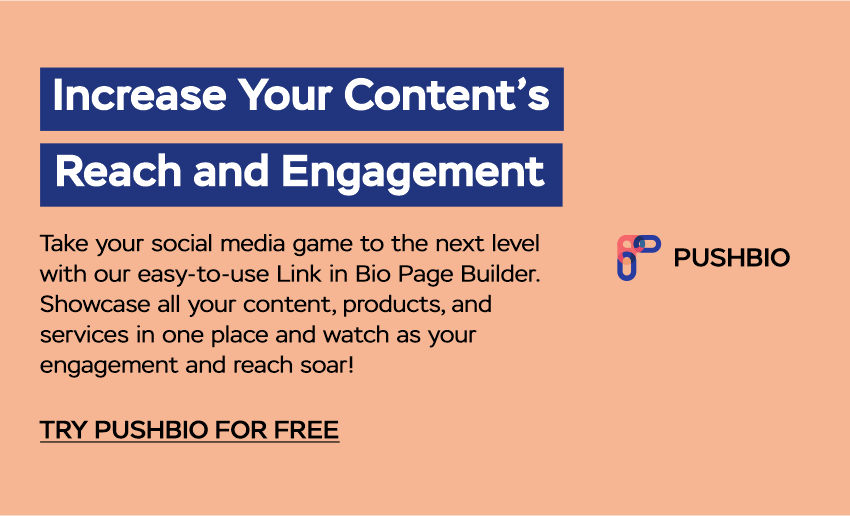 Learning this is undoubtedly akin to mastering the art of time travel through Instagram's digital diary. Thankfully, this guide unveils a treasure trove of methods that enable you to relive, re-share, and reignite the magic of your stories long after the clock strikes twenty-four.
2 Ways to view Instagram stories after 24 hours
Instagram Stories are brief and temporary content that lets users share glimpses of their lives in an immersive, captivating, and short-lived format. When you upload a story, it gets a prime spot at the top of your followers' feeds, inviting them to tap and explore your world. Stories can include photos, videos, stickers, and text, creating a flexible platform for self-expression, on-the-fly updates, and creative marketing.
Although Instagram stories become hidden after 24 hours, Instagram offers features like Highlights and Archives to help you save, share, and view stories after their expired time. These tools keep your special moments from slipping away, ensuring they remain accessible to you and your audience.
Below are the steps in detail of how you can view Instagram stories after 24 hours:
1. Using the Archive feature
The Archive feature on Instagram acts like a hidden storage area in your Instagram account. It's similar to a secret attic where your stories that have passed their 24-hour time in the spotlight find a new place to stay. Once you share a story, it gets moved to the Archive after disappearing from your main feed.
Within this digital storage space, your stories are organized according to when they were posted, forming a chronological story collection of your online life. Exploring this archive is like walking down memory lane, allowing you to return to spontaneous moments and candid snapshots that shape your story. This approach preserves the order of events and encourages users to thoughtfully select their stories, knowing they can be revisited.
However, only an account owner or anyone with access to the account can use the Archive feature. This means your Stories remain invisible to your followers long after they have elapsed their time.
Here's how to find your archived stories:
Open your Instagram app and sign in;
Tap on your profile picture at the bottom right;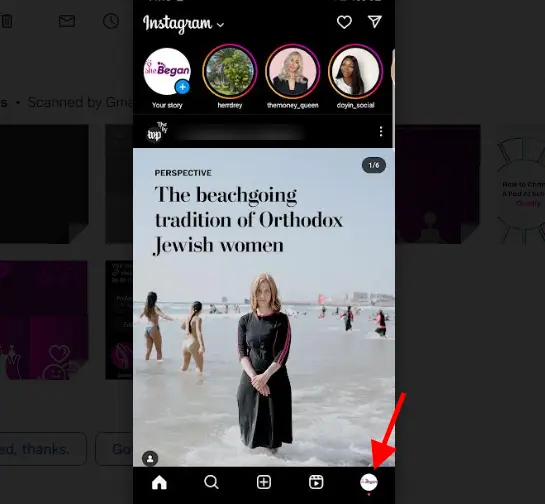 Click the three horizontal lines in the top right to open the menu;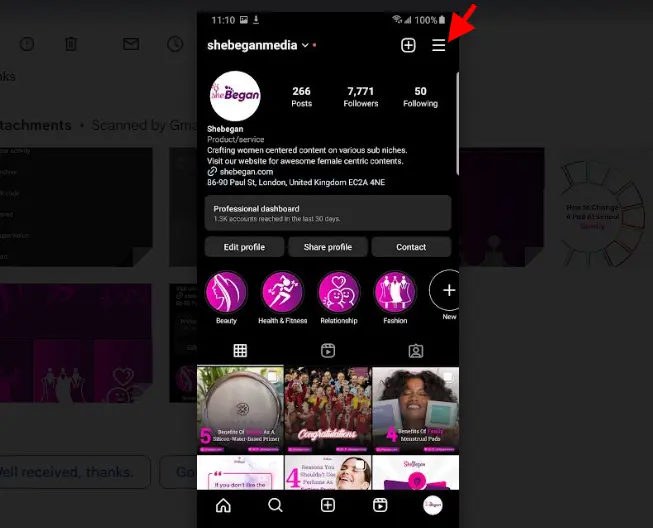 Choose "Archive" from the menu. This will display all of your previously posted Stories;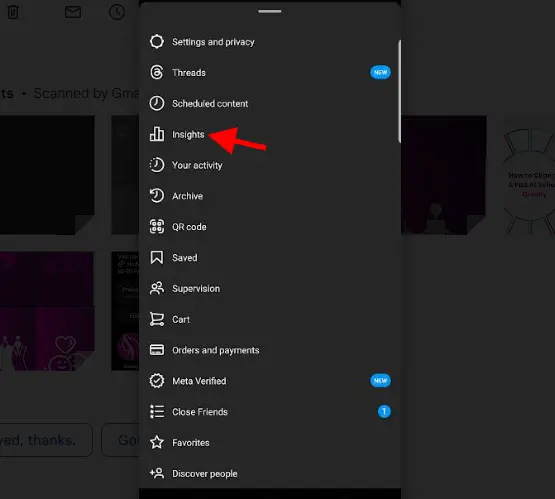 Scroll to and click on anyone you wish to interact with;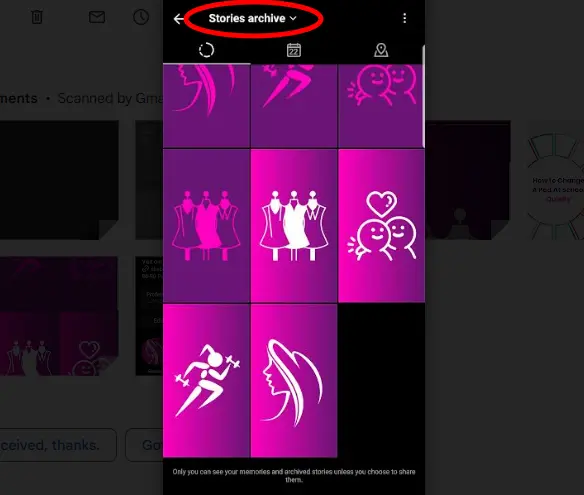 Click on the "More" option to permanently delete, Save, Send, or Share as a Post.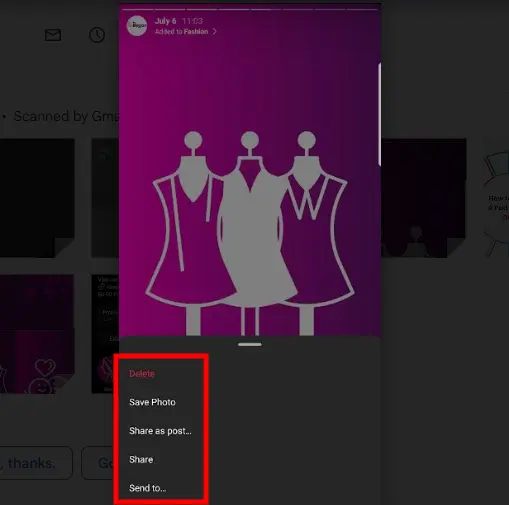 2. Using the Highlights feature
Instagram Highlights are carefully put-together collections that display your best stories. They help you reveal your personality, brand, or adventures beyond the usual 24-hour limit. Whether you're a person cherishing memories or a business showcasing products, this feature enhances your storytelling techniques.
The best part of using the Instagram Highlights feature is that it ensures your Stories remain accessible and visible to your Instagram audience. Instagram Highlights are right under your bio and above your regular Instagram posts. Anyone who visits your profile can tap these Highlights to explore a collection of stories you've handpicked to showcase. Unlike regular Stories, Highlights don't disappear after 24 hours since they stick around for as long as you want.
To view saved Highlights, follow these steps:
Visit the profile of the person whose Highlights you're interested in;
Below their bio, you'll see a line of round icons;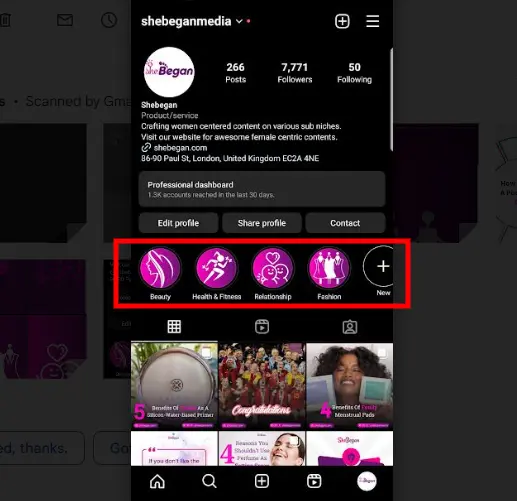 Tap any Highlight to see its content in a slide-show style;
Swipe left or right to move between different Highlights.
This way, you can relive those special moments, insights, or captivating stories whenever you like. If you don't know how to create Highlights from Instagram Stories, here is how to do it in a few steps:
Open the Instagram app and go to your profile by tapping on your profile picture.
Under your bio, you'll spot a section named "Story Highlights."
Tap the "+" icon on the far right side of this section.
You'll see a list of your saved stories. Choose the stories you want to include in your Highlight.
After choosing, tap "Next." Now, pick a cover photo and name for your Highlight.
When you're satisfied, click "Add" to make your Highlight.
Other ways to view Instagram Stories after 24 hours
While the Instagram features provided might be the only way to keep your stories lingering, other means exist. With ingenuity, users can prolong or access Instagram stories long after they are gone. Here are a few things you can try out:
1. Requesting a Re-share
If you've missed an Instagram story or wish to review a Story that has expired, you can request a re-share from the person who originally posted it. This polite and considerate approach allows you to enjoy a story that may have slipped through the 24-hour window. Here's how you can do it:
Open your Instagram app and go to your Direct Messages by tapping the paper plane icon in the top right corner;
Search for the person's username or find their conversation if you've interacted with them before;
Start a new message or continue an existing conversation with them;
Politely mention that you missed their story and ask if they could re-share it with you;
Wait for their response. If they agree, they might share the story with you directly through the chat or repost it in their stories for everyone to see again.
Remember, not everyone might be able or willing to fulfill your request when requesting a re-share, so approach the conversation with kindness. This method can be especially useful for catching up on valuable content, reliving special moments, or staying updated with a person's journey on Instagram.
2. Screenshots and Screen Recording
Screenshots and screen recordings offer a quick and straightforward way to capture Instagram stories beyond the 24-hour mark. Once you've taken a screenshot or recorded a story, you can access it offline whenever you want. You don't need special apps or features to take screenshots or record your screen.
To screenshot or screen record a Story from Instagram, follow the steps for your device:
A. iOS Devices (iPhone, iPad)
Locate the story you want to capture;
For iPhones with Face ID: Simultaneously press the Side button and the Volume Up button;
For iPhones with a Home button: Press the Home button and the Sleep/Wake (Top) button simultaneously;
The screen will flash, indicating the screenshot was taken. The screenshot will be saved to your Photos app.
B. Android Devices
Find the story you want to capture.
Depending on your device, simultaneously press the Power and Volume Down buttons or the Power and Home buttons.
The screen will capture, and you'll hear a shutter sound. The screenshot will be saved to your Gallery app.
C. Windows PC
Open the Instagram story you want to capture on your PC's browser;
Press the "PrtScn" (Print Screen) button on your keyboard. This captures your entire screen;
Open an image editing software (like Paint) and press "Ctrl + V" to paste the screenshot;
Then, save the image.
D. Mac
Open the Instagram story you want to capture;
Press "Shift + Command + 4" on your keyboard;
Your cursor will change to a crosshair;
Click and drag to select the area you want to capture. Release to take the screenshot;
The screenshot will be saved on your desktop.
While screenshots or screen recordings can help you save Instagram Stories beyond the 24-hour deadline, it is limited. For instance, depending on your device's screen resolution and the quality of your screenshot/screen recording, there might be a slight loss of visual fidelity.
Screenshotting a story won't retain interactive elements like polls, quizzes, or swipe-up links. Taking multiple screenshots or recording longer stories can be time-consuming and may clutter your device's gallery.
Conclusion
Instagram stories appear and disappear quickly. Therefore, there is a need for users to find creative ways to make stories last longer. The methods mentioned above act like doors to the past, letting users return to memories, moments of success, or times they want to experience again. As you try to save stories from disappearing, think about what you like and pick a method that fits your preferences.

Consolidate your online presence, boost engagement, and start growing your audience with a single link