Linktree is a popular bio link tool that's been a game-changer for many Instagram users since its launch. Linktree has been the go-to choice for those looking to add multiple links to their Instagram bio. But, as appealing as Linktree may seem, it's not without its drawbacks. Luckily, there are 10 cheap Linktree alternatives available that offer the same features and even more.
In this post, we'll be introducing you to other apps like Linktree, so you can explore a variety of alternative options. We understand that every content creator has unique needs and preferences, which is why we've put together a comprehensive list of the best linktree alternatives for you to choose from. Whether you're looking for an alternative to Linktree or simply want to explore other powerful tools you can use to add multiple links to your Instagram bio, we've got you covered.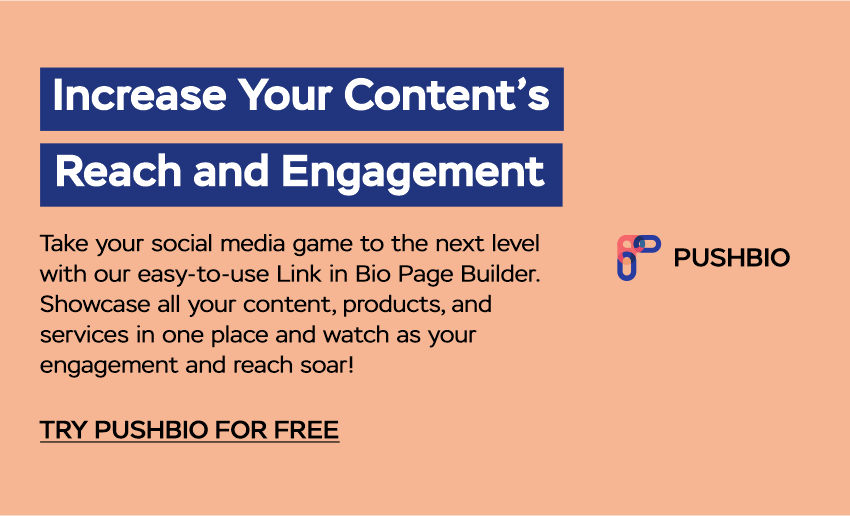 Cheap Linktree alternatives to consider
If you are looking for what to use instead of Linktree, then the list below is an excellent place to start your research:
1. Pushbio
Pushbio is a very powerful bio link tool, which many Instagram users see as one of the best Linktree alternatives. This, in part, is due to the tons of features that this tool comes with to help you execute different tasks with your Instagram bio link.
Pushbio offers all its amazing features and services based on three subscription levels. First, which is the free plan, comprises of very few but very useful features. Some of such functions include; custom profile URL, scheduling of links, access to the link shortener tool, google analytics integration, as well as other features too numerous to mention.
The second subscription plan is the premium plan, which comes with all the basic features of the free plan. More so, the premium plan comes with more to offer, such as access to unlimited links, removal of ads on bio page, advanced link statistics, verified check-mark, ability to customize your bio page, re-marketing with Facebook pixel, SoundCloud music auto embed, Youtube video auto embed, twitch channel auto embed and lots of other amazing features you'll love to use.
The third plan is the agency plan. Just as the name suggest, it is designed for social media agency to handle larger bio links tasks. The agency plan comes with all the features of the premium plan, plus other sophisticated features such as creating unlimited Biolink pages, unlimited project, and unlimited links.
With all the features mentioned above, Pushb.io may just be the perfect Linktree alternative you need for all your Instagram bio link tasks.
Pushbio.io Costs
Forever Free Plan is free, with standard features such as one project, one biolink page, unlimited links and other features that you can find very useful when adding multiple links to your Instagram bio profile.
Mini Plan – $2.99 per month or $29.88 annually.
Pro Plan –  $6.99 per month or $69.82 annually.
Agency Plan – $20 per month or $199.20 annually.
2. Link in Profile
Unlike what we know about other bio link tools, Link in Profile doesn't create a custom multi-links. Instead, it creates a mirror version of your Instagram feed with clickable images.
Well, why many users like Link in Profile is the fact that it saves them from some setup stress. What this means is that Link in Profile is best for users who do a lot of sponsored posts and also working on new campaigns and using new affiliate links. So, with Link in Profile, there is no need to regularly edit your landing page each time you want to add a new link.
By clicking on the image on your feed, your followers will instantly be redirected to the page where you have some information for them to see.
Link in Profile Cost
Individual plan costs $9.99 monthly or $99 annually with a 30-day trial period inclusive.
3. Lnk.Bio
With Lnk.bio, you are sure of getting some random URL after signing up for the 'Free for Life' plan. Well, what this random URL will only do for you is to entice you into subscribing for a paid plan
However, Lnk.bio seems to be one of the most affordable tools out there. With this, you can choose from any three plans which they offer.
Lnk.Bio Cost
Pro-Monthly Subscription plan – $0.99
Pro-Lifetime Subscription plan – $9.99 (a lifetime subscription)
Pro-Whitelabel Lifetime plan – $24.99 (a lifetime subscription with PRO features as well as removing the Link.bio footer and logo)
4. ContactInBio
ContactInBio is one of the most popular bio link tools. This, in part, maybe due to the similarity in landing page design with Linktree, although with some other Ad-on that gives it a more appealing look.
Worthy of mention is the fact that ContactInBio is the only bio link tool that has the contact form on the landing page option. With this, you can easily open up a communication channel between yourself and your Instagram audience.
Similarly, ContacInBio also offers the opportunity to choose from 8 blocks, which you can insert your landing page. Finally, and sure you'll like this part – ContactInBio doesn't place a watermark of their brand all over your landing page if you subscribe to their premium plan.
ContactInBio Costs
ContactInBio offers three pricing plans:
Starter: Free
Business: $7/month.
Agency: $28/month.
5. Tap.Bio
At first sight, this Tap.Bio looks complicated, a platform to use. But when you make a little navigation through it, until then, you'll know that it's an easy-to-use Linktree alternative.
Tap.Bio uses cards instead of blocks on your landing page. So, in this tool, don't bother looking for blocks because you'll be adding cards instead of blocks by default, Tap offers you only a card with a profile card to tease you into subscribing for their paid plans.
Well, with their silver plan, you can get up to 3 additional cards in addition to one basic card. Well, with this plan, you can do so much with it, such as adding your YouTube channel on the first card, Facebook link on card 2, teachable links on card three and Esty link on card 4. This is why this plan is pretty good for some super-active businesses.
Tap.Bio Costs
Silver plan – $5 per month or $36 per year
Gold Plan – $12 per month or $96 per year.
6. Linkin.bio
Linkin.bio is another excellent Linktree alternatives to consider. It is an all-in-one marketing tool that lets you create and share short links to your favorite content on multiple social networks at once. With this tool, you can recreate your Instagram feed on a custom landing page while also allowing you to tag links to specific Instagram posts.
In addition, you can set them up as a custom link or add multiple links to third-party resources, blog posts, or other web pages. Its additional feature is integration with Shopify; the tool provides native integration with Shopify.
It also allows you to enable Google Analytics UTM Tracking for monitoring advanced sales and conversion analytics. With Linkin.bio, you get to add multiple links per post.
Pricing
Linkin.bio provides users with two subscription plans to pick from:
Lite Plan: $12.50/month.
Standard: $20.93/month – $33.33/month.
7. Leadpages
Leadpages is an all-in-one landing page tool that allows you to easily create high-converting custom pages. It has an easy-to-use drag-and-drop editor so you can add elements like text boxes, image slideshows, and more without having any coding skills whatsoever.
The visual editor lets you preview the final outcome of your page's appearance. This can help you build better quality pages and save time when creating multiple landing pages of one single design.
Leadpages offers a wide range of templates based on various industries such as fashion boutiques, beauty salons, restaurants, etc.
Pricing
Leadpages offers three paid plans with a 14-day free trial period available with each plan:
Standard: $49/month.
Pro: $99/month.
Advanced: $239/month.
8. Campsite
When you are looking for reliable Linktree alternatives, Campsite is one of the powerful bio links I would strongly recommend for you. Although with a landing page similar to what you'll find on Linktree. Trust me, Campsite has lots of other amazing features you can lay your hands on. Typical of such features is the fact that links created using Campsite have images attached to them also.
Images on links become very important, especially for people who place so much importance on visuals on their Instagram bio links. However, adding images on the free version of the Campsite will only limit you to your images in your Instagram feed. Like you can rightly tell, this may turn out a big problem for people who wish to link some images that are outside their Instagram posts.
Also, with extension customization options, you can easily change your social icon, font, and color on your landing page, especially if you give so much priority to branding.
On a final note, when you sign up for the Pro version of Campsite, you can integrate your landing page with MailChimp to enable you to draw your Instagram followers to sign up in your mailing list. 
Campsite Costs
Campsite.bio gives you two Pro plans with an additional10-day free trial period:
Free: $0.
Pro: $7 per month.
Pro+: $24 per month.
9. Bio.fm
This bio link page builder comes with a user-friendly interface, making it easy for anyone to get started on the platform. You can choose from various blocks and reorder content by dragging blocks up and down. It also allows you to add buttons to enable visitors to instantly connect with you.
Bio.fm allows you to curate your content from several platforms. It comes loaded with multiple layout options to try out, and you can even add an opt-in form to collect emails, GIFs, question polls, links, and more.
Pricing
This tool has three plans:
Free: $0.
Semi-Pro: $5/month.
Pro: $10/month.
10. Shorby
For Instagram users that have been using the social media platform for a while, they can tell that one of the handy bio link tools that have been around for a while as well is Shorby.
While Shorby is known to carry out the basic functions of a regular bio link tool, it also performs some other functions that make it stand out. Typical of such added features on Shorby is the ability to retarget. With this, you can create trackable, shortened Shorby links that retarget any user that clicks on any link on your Instagram bio.
Just like Linktree, Shorby gives you the liberty to create your personalized landing page, which is filled with so many links. Like you can easily tell, these links are ultimately generated to help you make the most from your Instagram bio page.
Another unique feature about Shorby is the fact that it gives you the freedom to create a landing page with a highly colored background, which is branded with your personalized Instagram name on it. Well, on set back about this bio link tool is that it doesn't give you a space to include a brief description of your bio. 
More so, Shorby offers users the opportunity to add other social media icons such as Facebook, Twitter, etc. so that you can easily link them to your Instagram account. With this, you can tell that you have a wider clientele coverage since your friends and followers on other social media can easily link up with you on Instagram to know more about what you are promoting.
Shorby Costs
Shorby provides you with three different payment options:
Rocket plan: $15 per month.
Pro plan: $29 per month.
Agency plan: $99 per month.
Conclusion
Gone are the days of feeling stuck with Linktree as your only option. With so many better alternatives to Linktree available, it's time to explore your options and find the perfect linktree substitute that fits your needs and budget.
As we've mentioned earlier, some of these tools come with additional features that may make them more expensive, while others provide the basic function of adding multiple clickable links to your Instagram bio page. The choice ultimately depends on your interests and what you want to accomplish using multiple clickable links on your Instagram bio page.
We hope this post has given you a comprehensive guide to some of the best professional alternatives to Linktree that can help you add more clickable links to your Instagram bio page.

Consolidate your online presence, boost engagement, and start growing your audience with a single link