When the goal for your Instagram bio is to have as many links as possible, that's exactly when you'll realize the need for a bio link tool such as Linktree. Talking of Linktree, this is a very powerful bio link tool for Instagram that came on board after it was launched in December 2016 to serve as a savior for many Instagram users who needed to increase the number of clickable links on their Instagram bio page.
Well, despite how appealing Linktree maybe, especially as an Instagram bio link tool, it also came with some drawbacks. These challenges from Linktree gave rise to the need for Instagram users to look elsewhere for other credible alternative tools they can use in achieving all and even more than Linktree could offer them.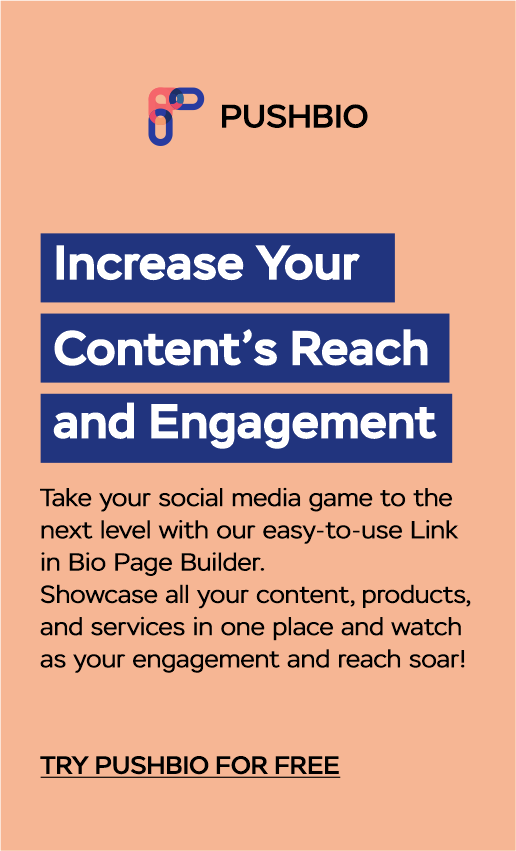 This post will also furnish you with other powerful Linktree alternative tools that you can use to add multiple links to your Instagram bio. You might be interested in our post that analyses the need to optimize your Instagram bio link for maximum conversions.
Ready for this? Let's get the ball rolling.
Cheap Linktree Alternatives
1. Pushb.io
Pushbio is a very powerful bio link tool, which many Instagram users have seen to be a major contender with Linktree. This, in part, is due to the tons of features that this tool comes with to help you execute different tasks with your Instagram bio link.
Pushbio offers all its amazing features and services based on three subscription levels. First, which is the free plan, comprises of very few but very useful features. Some of such functions include; custom profile URL, scheduling of links, access to the link shortener tool, google analytics integration, as well as other features too numerous to mention.
The second subscription plan is the premium plan, which comes with all the basic features of the free plan. More so, the premium plan comes with more to offer, such as access to unlimited links, removal of ads on bio page, advanced link statistics, verified check-mark, ability to customize your bio page, re-marketing with Facebook pixel, SoundCloud music auto embed, Youtube video auto embed, twitch channel auto embed and lots of other amazing features you'll love to use.
The third plan is the agency plan. Just as the name suggest, it is designed for social media agency to handle larger bio links tasks. The agency plan comes with all the features of the premium plan, plus other sophisticated features such as creating unlimited Biolink pages, unlimited project, and unlimited links.
With all the features mentioned above, Pushb.io may just be the perfect Linktree alternative you need for all your Instagram bio link tasks.
Pushb.io Costs
Forever Free Plan is free, with standard features such as one project, one biolink page, unlimited links and other features that you can find very useful when adding multiple links to your Instagram bio profile.
Premium Plan –  $4.99 per month
Agency Plan – $20 per month.
Unlike what we know about other bio link tools, Link in Profile doesn't create a custom multi-links. Instead, it creates a mirror version of your Instagram feed with clickable images.
Well, why many users like Link in Profile is the fact that it saves them from some setup stress. What this means is that Link in Profile is best for users who do a lot of sponsored posts and also working on new campaigns and using new affiliate links. So, with Link in Profile, there is no need to regularly edit your landing page each time you want to add a new link.
By clicking on the image on your feed, your followers will instantly be redirected to the page where you have some information for them to see.
Link in Profile Cost
Individual plan costs $9.99 monthly or $99 annually with a 30-day trial period inclusive.
3. Lnk.Bio
With Lnk.bio, you are sure of getting some random URL after signing up for the 'Free for Life' plan. Well, what this random URL will only do for you is to entice you into subscribing for a paid plan
However, Lnk.bio seems to be one of the most affordable tools out there. With this, you can choose from any three plans which they offer.
Link.Bio Cost
Pro-Monthly Subscription plan – $0.99
Pro-Lifetime Subscription plan – $9.99 (a lifetime subscription)
Pro-Whitelabel Lifetime plan – $24.99 (a lifetime subscription with PRO features as well as removing the Link.bio footer and logo)
4. ContactInBio
ContactInBio is one of the most popular bio link tools. This, in part, maybe due to the similarity in landing page design with Linktree, although with some other Ad-on that gives it a more appealing look.
Worthy of mention is the fact that ContactInBio is the only bio link tool that has the contact form on the landing page option. With this, you can easily open up a communication channel between yourself and your Instagram audience.
Similarly, ContacInBio also offers the opportunity to choose from 8 blocks, which you can insert your landing page. Finally, and sure you'll like this part – ContactInBio doesn't place a watermark of their brand all over your landing page if you subscribe to their premium plan.
ContactInBio Costs
Basic – Free
Business – $7 per month
Enterprise – $28 per month
5. Tap.Bio
At first sight, this Tap.Bio looks complicated, a platform to use. But when you make a little navigation through it, until then, you'll know that it's an easy-to-use Linktree alternative.
Tap.Bio uses cards instead of blocks on your landing page. So, in this tool, don't bother looking for blocks because you'll be adding cards instead of blocks by default, Tap offers you only a card with a profile card to tease you into subscribing for their paid plans.
Well, with their silver plan, you can get up to 3 additional cards in addition to one basic card. Well, with this plan, you can do so much with it, such as adding your YouTube channel on the first card, Facebook link on card 2, teachable links on card three and Esty link on card 4. This is why this plan is pretty good for some super-active businesses.
Tap.Bio Costs
Silver plan – $5 per month or $36 per year
Gold Plan – $12 per month or $96 per year.
6. Swipop
Swipop is another bio link tool that is known to straddle both as a bio link tool and a basic eCommerce store tool. Just like you would expect, Swipop helps you to create a landing page with lots of custom links.
Many influencers go for this tool because it integrates with Stripe to help you sell your premium content right from the same page. With this, you can easily monetize your Instagram accounts.
When it comes to setting, Swipop is pretty easy to use with just minimal features which wouldn't give your link some high-end look. One unique feature worthy of mention about Swipop is that you can use the "eye" button located at the top of each link to make each link visible or invisible at anytime you wish.
With this, you can create as many links as you require, then activate them only when you wish to have them active.
Swipop Costs
Swipop is free to use.
7. Linkr.in
To many Instagram users, they see Linkr.in as the basic version of Linktree. However, Linkr.in comes with lots of amazing features which will definitely intrigue you to subscribe for their premium and paid versions.
If you like and want to limit your Instagram bio link to the basic features of a regular Linktree tool, then Linkr.in may just be the next alternative to Linktree you need to try.
Linkr.in Cost
Free Account – No cost
Pro Account – $3 per month
8. Campsite
When you are looking for reliable Linktree alternatives, Campsite is one of the powerful bio links I would strongly recommend for you. Although with a landing page similar to what you'll find on Linktree. Trust me, Campsite has lots of other amazing features you can lay your hands on. Typical of such features is the fact that links created using Campsite have images attached to them also.
Images on links become very important, especially for people who place so much importance on visuals on their Instagram bio links. However, adding images on the free version of the Campsite will only limit you to your images in your Instagram feed. Like you can rightly tell, this may turn out a big problem for people who wish to link some images that are outside their Instagram posts.
Also, with extension customization options, you can easily change your social icon, font, and color on your landing page, especially if you give so much priority to branding.
On a final note, when you sign up for the Pro version of Campsite, you can integrate your landing page with MailChimp to enable you to draw your Instagram followers to sign up in your mailing list. 
Campsite Costs
Campsite – Free
Campsite Pro – $7 per month
9. Linkkle
Another good Linktree alternative bio link tool is Linkkle. If you are very familiar with the Linktree interface, you can tell that Linkkle is almost a replica of Link tree of some of the basic features you can get on Link tree. However, for many Instagram users, one thing they don't like about Linkkle is the fact that it has lots of ads, especially on its free plan.
Well, once you subscribe to the premium version of Linkkle, you are sure to outgrow any annoying ads that keep popping up at will.
Linkkle Costs
There are two payment options available on Linkkle. You can choose to pay a one-time subscription fee of $5 or $10. Like you would rightly guess, the $10 plan comes with some added features that will help to make the most from your Instagram bio link. Overall, Linkkle is another powerful Linktree alternative to check out.
10. Shorby
For Instagram users that have been using the social media platform for a while, they can tell that one of the handy bio link tools that have been around for a while as well is Shorby.
While Shorby is known to carry out the basic functions of a regular bio link tool, it also performs some other functions that make it stand out. Typical of such added features on Shorby is the ability to retarget. With this, you can create trackable, shortened Shorby links that retarget any user that clicks on any link on your Instagram bio.
Just like Linktree, Shorby gives you the liberty to create your personalized landing page, which is filled with so many links. Like you can easily tell, these links are ultimately generated to help you make the most from your Instagram bio page.
Another unique feature about Shorby is the fact that it gives you the freedom to create a landing page with a highly colored background, which is branded with your personalized Instagram name on it. Well, on set back about this bio link tool is that it doesn't give you a space to include a brief description of your bio. 
More so, Shorby offers users the opportunity to add other social media icons such as Facebook, Twitter, etc. so that you can easily link them to your Instagram account. With this, you can tell that you have a wider clientele coverage since your friends and followers on other social media can easily link up with you on Instagram to know more about what you are promoting.
Shorby Costs
Start plan – $9 per month
Pro plan – $29 per month
Agency plan – $99 per month
Well, from the subscription plans above, you can tell that Shorby, although a good alternative bio link tool to Linktree, isn't that cheap to afford. However, the truth remains that if you consider trackable links as well as the retargeting feature very essential to your Instagram, you may not mind the price tag since you'll be benefiting from these features in one way or the other.
Conclusion
Gone are the days when you are stocked on Linktree to add more clickable links on your Instagram bio page. Thankfully, there are a lot of other useful and powerful bio link tools which you can use to achieve this feat on Instagram.
Like you've seen in the list above, some of these tools come with other features, which makes them a bit pricey while others provide you the basic function of adding multiple clickable links on your Instagram bio page.
Well, it will be a hard one to point out the best Linktree alternative in this list for you. The bottom line remains that whichever of these tools that you may choose to use depends on your interest as well as what you wish to accomplish using multiple clickable links on your Instagram bio page.