If you've been around the block with social media marketing, you've probably heard that you should include link to your product in your bio. However, is this a good practice? Should link in bio be to product page?
If your business is an e-commerce store, a link in your bio should be to your product page. However, if you're selling multiple product, it is recommended that the link you have in your bio should be to a landing page that has all the products.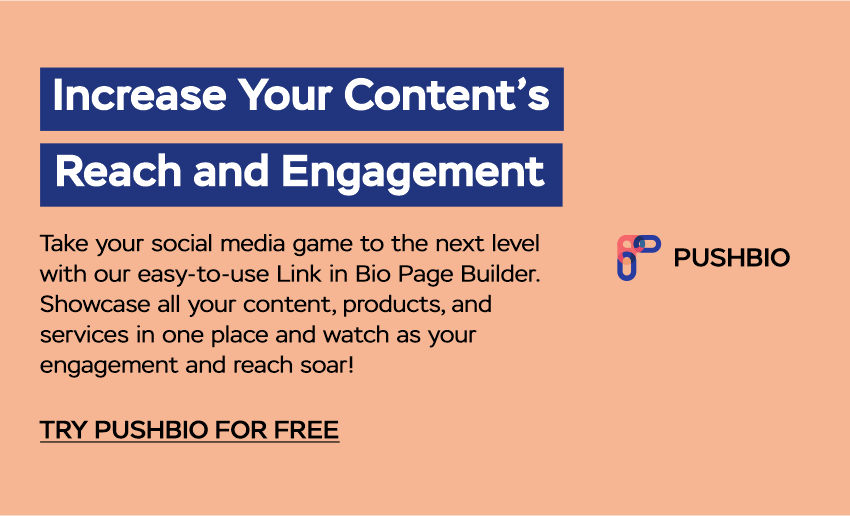 Usually, the link in your bio should be to your website or social media accounts. However, if the point of that account is to sell a particular product, you can link to the product page.
In any case, Your link should take your followers to places where they can learn more about you and your business. If you have multiple products and want to put as many, as possible in your bio, you could try out the Pushbio magic link. It allows you to put all your products in one simple link that you can then put on your bio.
How to Create a Biolink for Your Product
Creating a biolink
On a Biolink page, you can keep an up-to-date collection of all the content, media, websites, and product pages that are important to you. It is just a link with a clickable URL that can be connected to something and shared via email or social media.
Pushbio allows you to customize the look and feel of your Biolink page. Following these steps will make it simple to create a Biolink:
Select the "Create Link" tab in the middle-right corner of the dashboard.
then select "Biolink page" from the drop-down menu.
The next step is to select your preferred domain name, provide a custom alias, or accept one generated at random for you.
Customizing your biolink to match your brand
This allows you to modify the overall theme of the Biolink page. You can select one of our outstanding themes or one of our preset background colors with simple and abstract gradients.
You can also use a color gradient, image, or video to create a personalized background that matches your style or mood. You can also upload a favicon by selecting one from your media library when you click the favicon section on the personalization tab.
You can learn more about customizing your biolink here.
Adding product
Adding product links on pushbio is easy, and you can have it in two ways. You can either have the original product on pushbio or you can also embed products from other websites on your Biolink page.
Adding and selling your products on pushbio
This allows you to place the products directly on pushbio. This turns your bio link page into your personal online store. to do this, you have to:
Select 'Total Biolinks' on your user dashboard;
Select the page you wish to add a product button;
Click on the Add Block button on the next page;
Click on the Product block;
Enter a Name for your product button;
Click on Submit.
Learn more about adding and selling your products on pushbio here.
Embed from other websites
The other way is to embed your product from another website. This option is great for you if you already have your products on another website. to do this, you should:
Click 'Total Biolinks' on your user dashboard;
Select the page you wish to add your product;
Select the 'Add Block' button;
Click on the block labeled External item;
Add Item URL into the space provided;
Enter product Name;
Describe the item in detail;
Set Price;
Then submit.
Learn more about embedding your product from another website here.
What should be included in a bio link?
While the link in the bio is important, the content of your bio should set the tone for people to click on your link.
Name
The first thing you want to do is make sure that your name is a link. This way, it will appear in search results, and people can click on it to visit your website, social media profile, email address, or phone number. If you don't want people to see those things under your name, consider using "more" or "show less" links instead of showing the information directly in search results.
Image/Logo
You should add a logo or image to your bio link for a more visual experience. They should be relevant to the content of your bio link and not just any image from an unrelated video game or movie. It's important that you choose a profile picture at least 200×200 pixels in resolution, as this will make it easier for other users to identify you on platforms like Reddit and Twitter.
Images should be saved in JPG or PNG format so they're not too large (or small) and can easily be read by everyone.
Description
Your description should be short and sweet, don't bog it down with long-winded paragraphs. Just give a brief summary of who you are, and what you briefly summarized follows you. It's also smart to include keywords that describe your content in the bio so it appears higher in search results.
Hashtags are also beneficial when creating a bio link because they help connect you with other users who share similar interests and make sure they can find your profile easily! Lastly, adding a call to action (CTA) at the end of your bio will encourage people to visit your website or social media pages.
Contact information
The next step is to include contact information. This includes an email address, a phone number, and any social media accounts you may have. It can also be helpful to include your address so that people know where to reach you if they have any questions or comments regarding your work.
You can also add links to websites where people can find more information about you. For example, your website and LinkedIn profile.
Final Thoughts
Bio links are a great way to share information about yourself. The bio link is easy to get your name, image, description, and contact information in front of new people. It also provides a place to share other important things about you, such as education or awards won.

Consolidate your online presence, boost engagement, and start growing your audience with a single link