As we all know, Instagram has become a platform for individuals and businesses to showcase their creativity and promote their products/services. But did you know that you can also use Instagram to create and promote events? Adding an event to your Instagram's link in the bio can increase visibility and engagement for your event among your followers. In this blog post, we'll show you how to create and add event in Instagram link in bio.
How to add an event on Instagram
If you want to share your event details with your followers, adding an event link to your Instagram bio is a great way to grab attention and boost engagement. To add your event link to your Instagram bio, you'll need to follow these steps: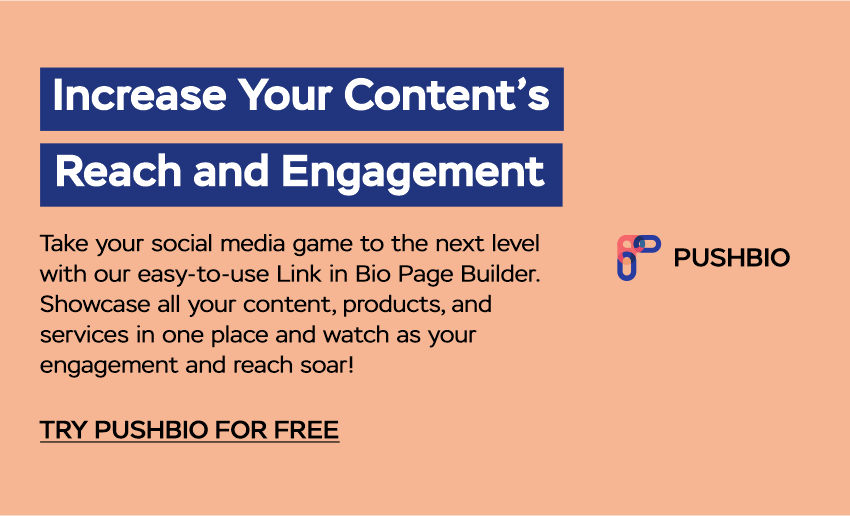 Copy the URL link to your event;
Log in to your Instagram account and go to your profile;
Tap the "Edit Profile" button on your profile page;
Scroll down to the "Add Link" section and paste your event link;
Double-check to ensure that the link is correct and working properly;
Tap on the "blue checkmark" at the top right corner of the page.
These simple steps will enable you to easily link your event to your Instagram bio and direct your audience to your event page. Now, sit back and watch your engagement soar.
How to use Pushbio to add Events to your Instagram Bio
Instagram limits the number of links you can add to your bio section, making it difficult to simultaneously promote all your events in one place. However, with the help of a "Link in Bio" tool like Pushbio, you can create unique landing pages that house all your essential content.
Pushbio allows you to create a dedicated page for your Instagram-related content, which means your audience can access all your content from just one link. This saves you from manually updating or changing your link every time you add new content. Plus, using a custom landing page from Pushbio ensures consistent branding for your content.
Are you ready to put a clickable link on your Instagram bio with Pushbio? Here's how to do it:
Once you're on the Bio link settings page, click on the "Add Block" button;
A drop-down menu of available blocks will appear; select the Link block;
Paste your event link into the "Destination URL" field;
Give your link a relevant name by filling out the "Name" field;
Click "Submit" to add your Event link to your bio link page;
Copy and paste the URL of your Biolink page into your Instagram bio section by following the steps in the previous section.
With Pushbio, you can easily promote your events and content on Instagram without hassle. You also get to enjoy advantages such as measuring and tracking your Event link success, selling tickets to your events right from your bio link page, and sharing more details about multiple events.
Benefits of adding an event in Instagram's link in the bio
Adding an event in Instagram's link in the bio could be the answer. Here are just a few of the many benefits of this handy feature:
1. Increased visibility and traffic
Adding an event link to your Instagram bio can drive more traffic to your event page or website. Instead of relying on your followers to find your event through posts or stories, they can easily access it through your bio link. Plus, if your followers like what they see, they can easily share your event with their followers, increasing your visibility even further.
2. Improved engagement
When you add an event to Instagram's link in the bio, you give your followers a direct and easy way to engage with your event. They can RSVP, buy tickets, or learn more about your plans. This direct engagement can build excitement and anticipation for your event and encourage more people to attend.
Promoting an event on Instagram
If you're ready to take your event promotion to the next level with Instagram's link-in bio feature, you should keep a few best practices in mind. Below are some tips to ensure you're creating and adding events in the most effective way possible:
1. Make it eye-catching
Your event link should stand out in your bio, so make sure it's eye-catching and easy to find. Use a call-to-action or emoji to draw attention to the link, and consider using a branded URL to make it more memorable. You can also add a relevant image or graphic to your link page to make it more visually appealing.
2. Keep it up-to-date
As your event evolves, update the link in the bio accordingly. This will help ensure that your followers have access to the most current information about your event, such as changes in date, location, or ticket prices. Regularly updating the link in the bio helps keep your followers engaged and excited about your event.
3. Use tracking and analytics
Use tracking and analytics tools to monitor your traffic and engagement to get the most out of the event link in your bio. You can use this data to see how many people click on your link, where they're coming from, and what actions they take once they get to your event page. This information can help you refine your strategy and make data-driven decisions about your event promotion.
Conclusion
This powerful feature allows you to promote your events to a wider audience and drive more traffic to your ticket sales page. With some creativity and effort, you can take your event promotion to the next level and host successful and well-attended events that your followers will love.