If you're an avid Instagram user, you know how important it is to make the most out of your limited bio space. One way to do that is by using short URLs. Not only do they save space, but they also make your bio look clean and professional. This makes knowing the best tools to shorten link for Instagram bio is essential.
In the past, Google's URL shortening service for Instagram bio was the king of the hill. However, due to Google's focus on a new service called Firebase Dynamic links, that service has been cancelled. So, what should you use instead?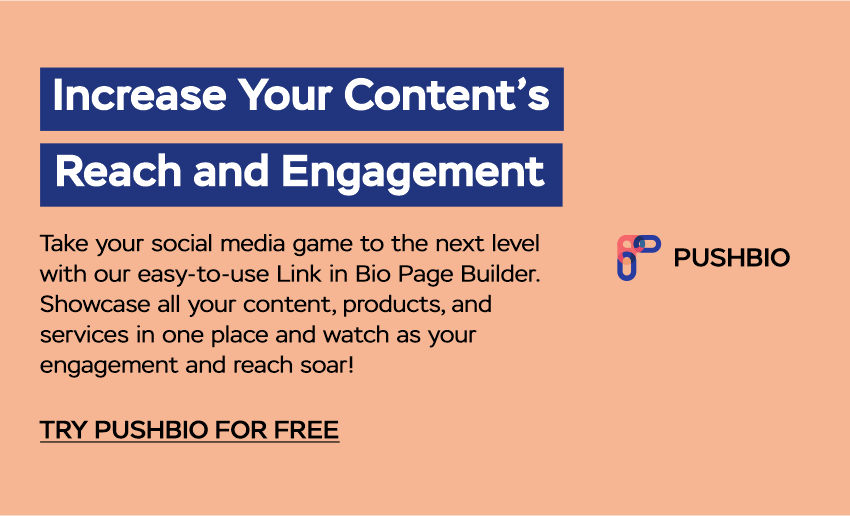 Thankfully, there are plenty of other great URL shortening tools out there that you can use to make the most out of your Instagram bio. These tools are just as good and useful as the old Goo.gl link shortening service, and we've rounded up our best tools to shorten link for Instagram bio for you.
Best tools to use in shortening link for Instagram bio
Picking the best Instagram URL shortener can be confusing. Why? Your options are diverse with different features and capabilities. Tp help you make the best choice, we've created a list of the top tools to shorten links for Instagram bio. With the aid of these tools, you can create short URL for Instagram bio in no time:
1. Pushbio.io
Pushbio.io is a fast growing bio linking tool you can as well use to shorten link on Instagram bio. This tool offers a wide range features, and many users know it as the complete Instagram tool which can be used to customize and add multiple Instagram links in bio.
One unique feature of Pushb.io as a power link shortening tool is the fact that it integrates advanced statistics to help you track clicks on shortened links. The link shortening feature of Pushbio is easy to use and intuitive and comes with a host of customization tools to further make your link appealing. 
2. TinyURL
TinyURL for Instagram is one tool that is used to shorten links and can be used for Instagram bio, and it has been in use for a while. With TinyURL, you cannot only shorten your Instagram link, but you can also customize you links without a charge. One unique feature of this URL link shortening tool that makes it standout is the relative ease of use which it offers.
For Mozilla users, they can easily add this tool to their browser toolbar for quick access, and this is also the same for Google chrome users who can add TinyURL to their Google chrome extension. In case you are in a haste to shorten link for Instagram bio, TinyURL is one tool you need to check out.
3. Rebrandly
Where branded links is the goal, Rebrandly is one tool that you need to check out. Besides helping you to rebrand your links, Rebrandly also has a complete package which helps you to customize your links as well as managing various domains while monitoring link statistics.
Just like other URL shortening tools, Rebrandly provides more options for creating custom URL for any of your domains. Also loved about Rebrandly is the option it offers users to purchase domains directly from the tool, and this is a great step towards creating your own personalized links.
On a final note, the Google Chrome extension of Rebrandly help users to instantly create shortened links for their websites without going to the main dashboard of Rebrandly.
4. Is.gd
If you need a tool that gives you a custom link within a few second, Is.gd is where you should turn to. Many users love this URL shortening tool for its relatively simplistic function since it doesn't put you through several steps of verification and other CAPTCHA verification.
Check out this amazing link shortening tool to drive more traffic to your site with short and easy to remember links for your followers and clients.
5. Buff.ly
This link shortening tool also shuttles as a social media management tool which helps you to manage, share and track all your post on different social media platforms. Buff.ly works best on social media post and it helps to prevent links on this post to remain intact, especially when adding such links to a post.
For Buffer fans as well as you who would need a tool that is simple enough to help you personalize your links, Buff.ly is definitely the tool you need to try.
6. Bit.ly
Bit.ly is a very popular name when it comes to link shortening services. If you ask me, I can confidently tell you that a lot of links you find out there on various Instagram accounts were shortened using Bit.ly. This free link shortening tool is very easy to use, with just a copy and paste function being all that you need to do.
However, you can enjoy more options and features from this tool once you become a registered member. Some of such added benefits of becoming a registered member include the ability to track statistics for a particular link as well as creating customizable links.
If you wish to go beyond these, you can go ahead with registering for Bit.ly Enterprise. Once you've done this, you can enjoy added benefits such as creature secured links as well as link creating campaign. Without a doubt, Bit.ly has proven to be one of the most powerful link shortening tool.
Take Away
If for some reasons, you depended on Goo.gl to shorten link for Instagram bio but can't continue with that for now due to a discontinue of this service by Google, that's not enough reason why you should hang yourself.
As mentioned earlier in this article, there are other useful tools such Pushbio, Bit.ly, TinyURL, and others which you can use to customize and personalize your Instagram bio links.
If you have other questions relating to how you can shorten your Instagram links or any other links, you may kindly drop that as a question on the comment box below.

Consolidate your online presence, boost engagement, and start growing your audience with a single link