Instagram continues to be an essential platform for individuals, influencers, and businesses. With millions of active users and ever-increasing competition, standing out and making an impact is no easy feat. This is where a well-optimized Instagram bio comes into play.
However, the traditional one-link limit in an Instagram bio can be quite limiting for those seeking to share multiple URLs or promote various web destinations. Fortunately, the solution lies in the realm of Instagram bio link generators. These powerful tools offer the capability to consolidate multiple links into one, creating a seamless and user-friendly experience for your visitors.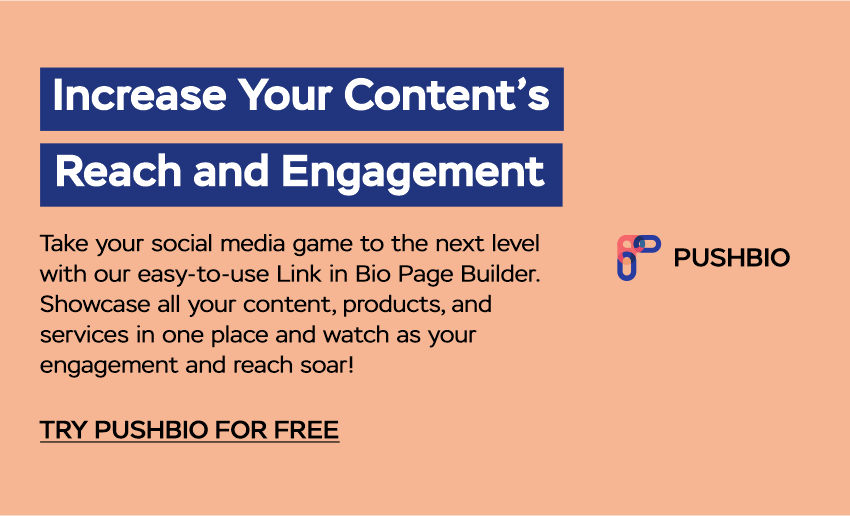 In this article, we will explore the five best Instagram bio link generators for 2023, providing you with the tools you need to supercharge your Instagram bio and optimize your social media presence like never before.
5 Best Instagram bio link generator
Out of the multitudes of Instagram bio link generator tools, here are our pick of the best five currently in the market:
Pushbio
With the abundance of content and links to share, an all-in-one biolink tool like Pushbio can be a game-changer. Pushbio is designed to centralize all your content in one easily accessible location, making it convenient for anyone with a link to explore your offerings.
One standout feature that sets Pushbio apart from other biolink tools is its provision for using a custom domain in your links. This customization allows you to create bio link landing pages that reflect your individuality, values, and goals. Ease of use is a prime aspect of Pushbio's appeal. Its user-friendly interface ensures that even those new to the platform can navigate effortlessly.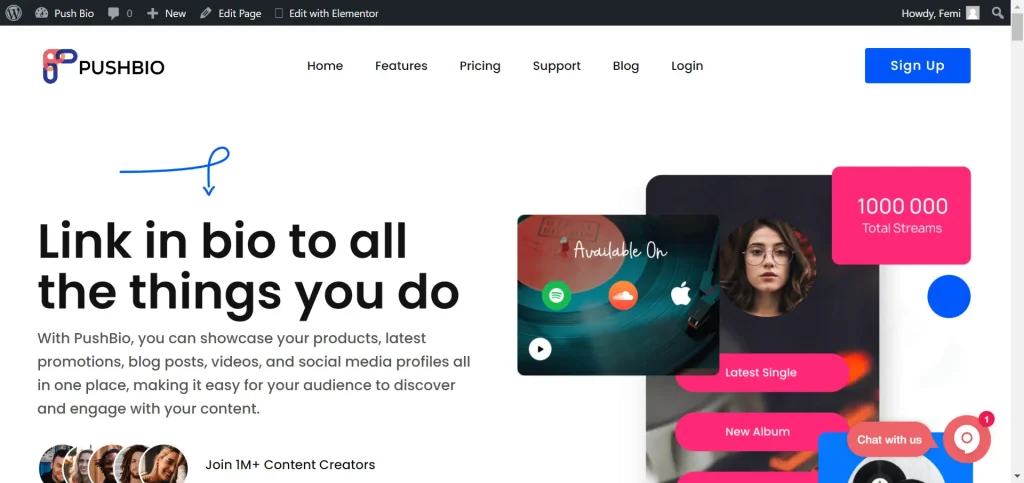 Creating biolinks, QR codes, VCard links, domains, and more becomes a breeze with the intuitive page builder. Moreover, Pushbio goes the extra mile by enabling you to integrate tracking pixels and Google Analytics into your biolink page, enabling you to track essential metrics for better insights.
And if you are looking to monetize your content, Pushbio offers seamless integration with up to five different online payment platforms, including PayPal, Paystack, Stripe, and crypto.com. This functionality allows you to sell products directly from your page or receive donations from your loyal fan base.
Furthermore, Pushbio takes its user appreciation to another level with an attractive affiliate commission program. By referring new members through your unique affiliate link, you can earn a commission ranging from 5-10% every time they subscribe to a paid plan.
Pricing
Pushbio has three separate plans:
FREE Plan: Offering a taste of its capabilities at no cost.
PRO Plan: Priced at $6.99 per month.
AGENCY Plan: Priced at $20 per month.
Lnk.Bio
Another noteworthy bio link generator tool to consider is Lnk.Bio. This minimalist biolink tool provides just the right amount of features to get the job done. Its simple interface and easy-to-use page builder make creating captivating landing pages a cinch.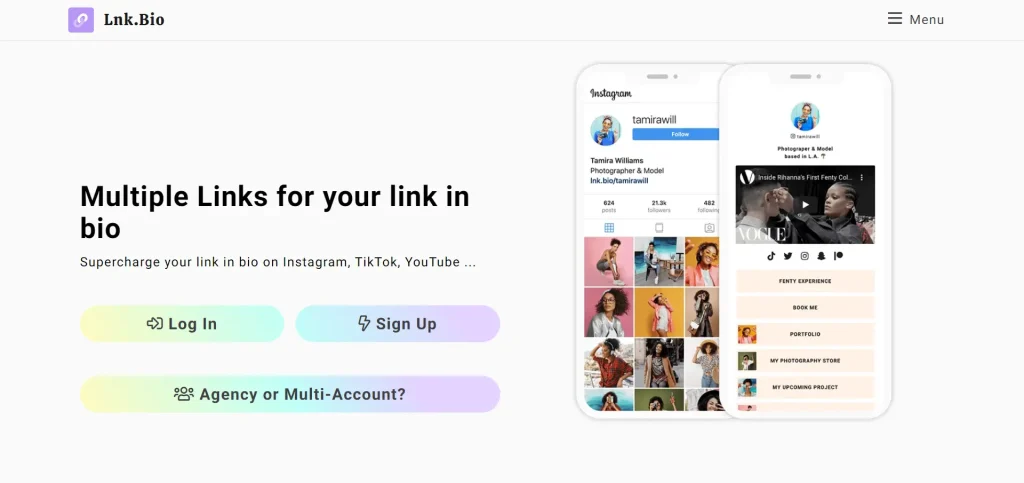 Lnk.Bio is ideal for those who require a no-fuss approach and do not need an extensive array of features. It supports cramming your landing pages with multiple links, making it perfect for content creators looking to share a variety of destinations with their audience.
With over 40 social icons to choose from, Lnk.Bio lets you link directly to your social media accounts or profiles. This feature is particularly valuable for those seeking to grow their online presence across different platforms.
Pricing
As for Lnk.Bio, they have four plans to consider:
Free Plan: $0
Mini Monthly Plan: $0.99 per month.
Mini One-Time Plan: at $9.99 per month.
Unique One-Time Plan: $24.99 per month.
Tap Bio
Tap Bio offers a unique opportunity to create a captivating mini-site of slides that lead your audience to your latest Instagram posts and other social media profiles, such as Twitter and YouTube. What sets Tap Bio apart is its mobile-optimized landing page creator, ensuring that your on-the-go readers never miss a beat.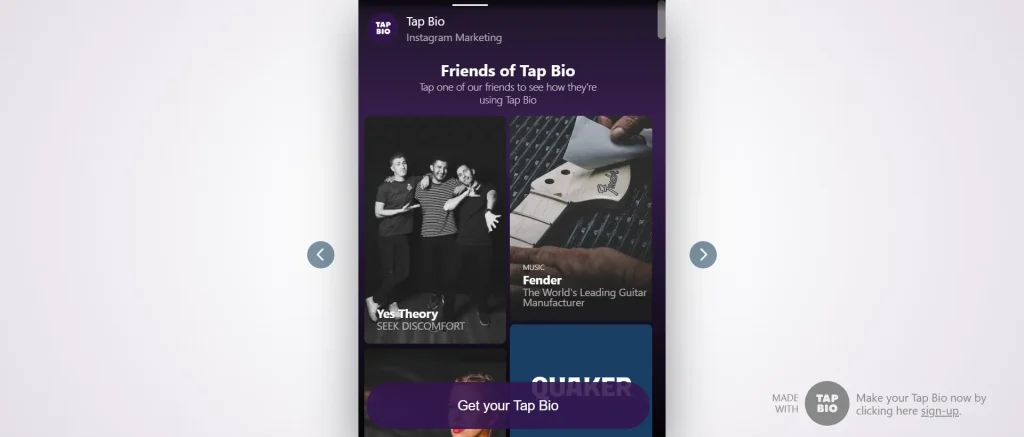 At the heart of Tap Bio's functionality lies the concept of 'cards.' These versatile cards enable you to create compelling calls to action, links to other content, and even branch out into other social media networks with additional profiles. With Tap Bio, users can showcase their existing Instagram posts within tappable cards, providing a seamless and engaging user experience.
Pricing
Basic plan is free
Silver plan at $5 per month
Gold plan at $12 per month.
Shorby
Shorby takes Instagram bio linking to a whole new level. With the ability to add multiple links, this Instagram bio link generator tool empowers you to direct your followers to various destinations, including your website, blog, social networks, online store, and affiliate links. The 'SmartPage' page builder's standout feature enables you to craft unique and eye-catching landing pages, incorporating all your essential links in one place.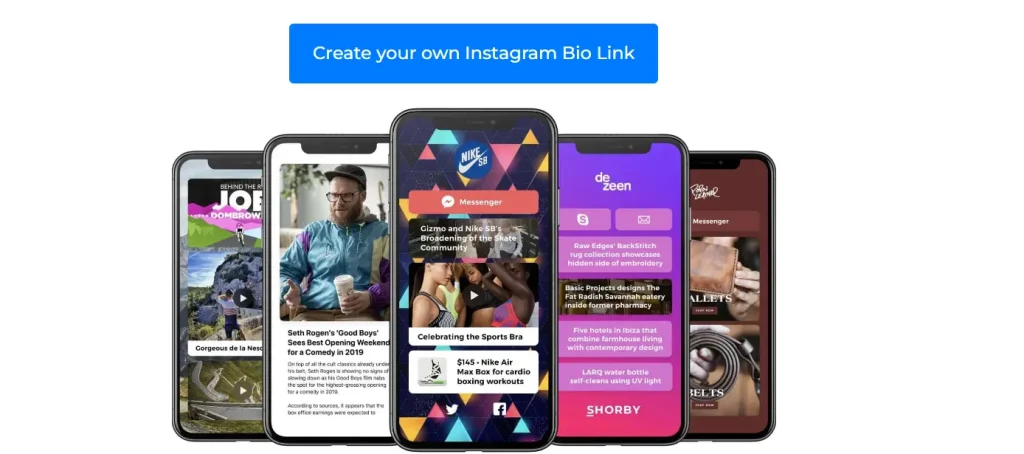 The customization options with Shorby are endless – from adding videos, backgrounds, animated avatars, and icons to embedding rich links, text blocks, GIFs, and catchy headlines. You can modify your links as often as you desire, ensuring your content remains fresh and relevant. Additionally, Shorby provides valuable analytics, allowing you to track the performance of your SmartPage and identify the most clicked links.
In addition, Shorby's messenger links offer further versatility for customer service and lead generation, making it a comprehensive solution for enhancing your social media presence.
Pricing
ROCKET plan $12 per month
PRO plan $24 per month
AGENCY plan $82 per month
Pallyy
For those seeking an all-encompassing Instagram bio link generator tool, Pallyy is a top contender. Its feature-rich platform allows you to create two distinct types of link-in-bio pages catering to your specific needs. You can opt for a grid-style page, mirroring the look of your Instagram profile, or a link page featuring all your priority links.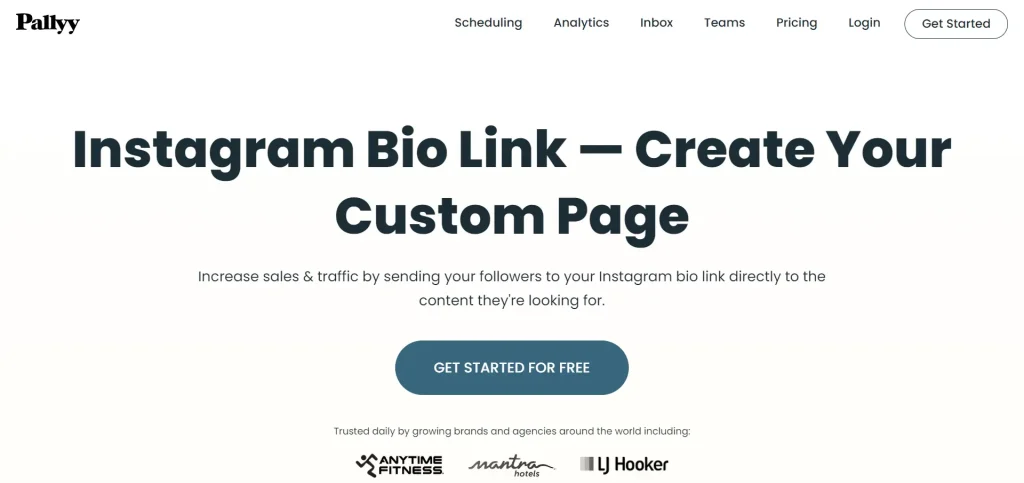 Pallyy's customization options are impressive, empowering you to tweak colors to match your branding and add links to content, images, videos, and other social networks.
Pallyy is a comprehensive Instagram marketing tool allowing you to schedule posts on Instagram and other social networks, manage comments, and access valuable reporting and analytics. The icing on the cake is that Pallyy delivers all these features at an extremely affordable price, making it a compelling choice for businesses and content creators.
Pricing
Free account
Premium plan at $15 per month.
How to select the best Instagram bio link generator
1. User-friendly interface and ease of use
An essential criterion for selecting the best Instagram bio link generator is a user-friendly interface, ensuring that even those new to the platform can easily navigate. The tool should provide a seamless and straightforward process for creating and managing bio links without the need for extensive technical knowledge or coding skills. An intuitive design and clear instructions contribute to a smooth user experience, saving time and effort while optimizing your social media presence. In this regard, Pushbio stands tall and edges out other tools on this list.
2. Customization options for branding and personalization
A top-notch Instagram bio link generator should offer ample customization options to align with your branding and personalization needs. This means the ability to customize the appearance of the bio link landing pages, such as choosing colors, fonts, and layouts that reflect your individuality or business identity. Moreover, the tool should allow you to add logos, images, and other branding elements, creating a cohesive and professional look that resonates with your target audience.
3. Integration with other social media platforms
In a multi-platform social media world, the best Instagram bio link generator should go beyond Instagram and integrate seamlessly with other popular social media platforms. This enables you to consolidate all your social profiles and online destinations into one centralized location, streamlining navigation for your audience. A well-integrated bio link tool enhances your online presence across various platforms, increasing your reach and engagement with followers across the digital landscape.
4. Analytics and tracking features
A crucial aspect of any effective bio link tool is its ability to provide valuable insights. The ideal Instagram bio link generator should include robust analytics and tracking features, allowing you to monitor the performance of your bio links. Detailed data on click-through rates, visitor demographics, and link interactions empower you to make data-driven decisions and optimize your bio link strategy for better results.
5. Compatibility with mobile devices
The best Instagram bio link generator must be fully compatible with mobile devices. This ensures that your bio links and landing pages are accessible and user-friendly for on-the-go visitors using smartphones and tablets. A mobile-responsive design guarantees that your content displays properly across different screen sizes and maintains functionality, delivering a seamless user experience to your mobile audience.
Conclusion
Harnessing the potential of any Instagram bio link generator is a strategic move that allows you to consolidate your content, direct your audience to various destinations, and present a cohesive brand image. And an outstanding tool to check out is Pushbio. The Pushbio platform checks all the boxes of being a great tool that combines essential features to maximize your online presence. This tool allows you to make your Instagram bio a powerful gateway to your online world, boosting engagement and driving meaningful interactions with your followers.

Consolidate your online presence, boost engagement, and start growing your audience with a single link