If you use social media platforms extensively for your business, or brand promotion, then you probably have a ton of links to share with your followers. And although there are hundreds of link management tools to help you out with this, picking the right one can be a challenge.
In this blog post, we're going to take a deep comparative analysis of two of the most popular link management tools out there: Pushbio vs. Bitly. By the time you're finished reading, you'll have a clear understanding of the key differences between these two fantastic tools, and you'll be able to decide which one is the best fit for your specific needs.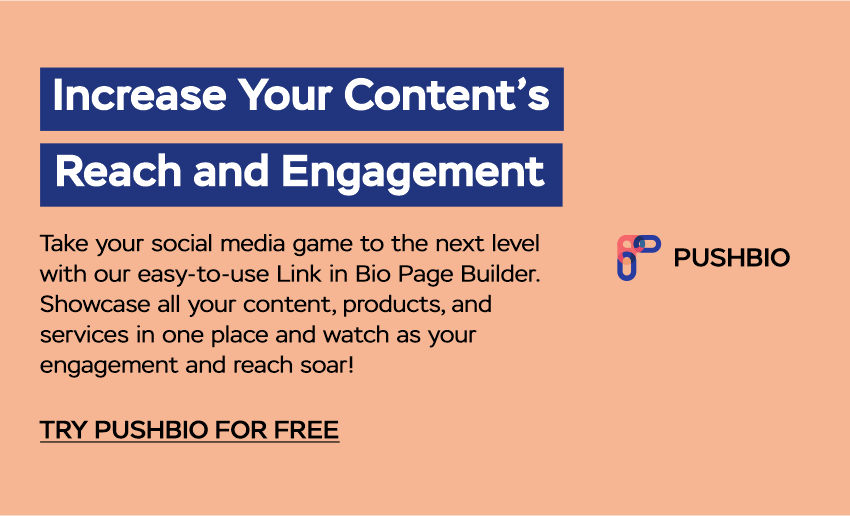 Pushbio vs. Bitly: Key difference to note
Pushbio and Bitly are two of the world's most popular link-in bio tools today. These tools have gained popularity because of their user-friendly interfaces and fantastic features. Let's dive into a detailed comparison of Pushbio vs. Bitly:
Overview
Pushbio
Pushbio is a platform that lets you create simple and sleek landing pages to display all your important links in one place, so whether you want to share your latest blog post, your e-commerce store, or your favorite charity website, Pushbiois a ready tool.
Pushbio has quickly become a fan-favorite among social media influencers, entrepreneurs, and anyone looking to share multiple links effortlessly. Adding a link to your Pushbio page in your Instagram bio lets your followers access all your essential links without the hassle of constantly updating your bio.
Bitly
Bitly is a link management platform that allows you to shorten and customize links. But it's not just any ordinary link-shortening service; it offers many other features to make your life easier when managing your links.
Bitly makes your links more manageable, trackable, and user-friendly. By shortening your links with Bitly, you can save space and make them easier to share on social media, email, or any other platform.
Ease of use and Interface
Pushbio
One of the best things about Pushbio is its intuitive and user-friendly design. Everything you need is right at your fingertips, so you can spend less time fiddling with settings and more time creating content. Navigating the user dashboard on Pushbio is a breeze. You can quickly access all the features and services offered without any hassle.
Bitly
Bitly nails it in this category as it uses an interface that is incredibly comfortable and user-friendly. You won't have to spend hours trying to figure out how to use it since it's intuitive and straightforward. And if you're worried about a learning curve, don't be; with Bitly, you'll be a pro in no time. So whether you're a tech wizard or a complete newbie, Bitly is the perfect tool.
Link features
Pushbio
One thing that makes Pushbio stand out from other link management tools is its ability to create custom domains for your business or brand. Leap links are a great option to bypass your Pushbio and redirect your audience to a specific destination.
Priority Links, conversely, make it easy to display important links front and center. You can also use the schedule link option to ensure your links go live at the perfect time. For sensitive content, Pushbio offers gated links. This customization lets you notify your audience about the potential sensitivity of the link's contents.
And if you're looking to distribute information efficiently, create sleek and efficient QR codes to share your message far and wide. Plus, you also get to enjoy the added benefit of filtering your link data sets and exporting data in not one but two file formats.
Bitly
Bitly's link-shortening feature allows you to create a short, simple link that's easy to share and remember. Plus, shorter links have increased click-through rates, making your audience more likely to engage with your content.
You can also make your brand stand out with Bitly's customizable links. Customize the domain, create a vanity URL, and add a memorable keyword to make your links your own. With this feature, you can create a unique, branded link that reflects your business and catches the eye of your audience.
Bitly's QR codes ensure you can keep their offline content up-to-date while saving money on manufacturing costs. Say goodbye to costly reprints as it's convenient, cost-effective, and eco-friendly.
Link management and analytics
Pushbio
With Pushbio, you can also keep tabs on specific metrics to track the success of your links. Look no further than the pixel tracking feature. With this tool, you can gather valuable data on your visitors and their activities, helping you optimize your page for maximum impact.
And if that's not enough, you can also integrate Google Analytics using the Universal and Measurement ID. This powerful combination gives you even more insights into essential metrics so you can stay on top of your game.
Bitly
Keeping track of all your links can be a hassle, but not with Bitly. Our link management feature lets you easily access and categorize your links. You can create folders, add tags, and search for links by keyword, making it simple to find the link you need when you need it.
With Bitly's link metrics feature, you can track your link clicks, see where your traffic is coming from, and get insights into your audience's behavior. This information is crucial for improving your marketing strategies and making data-driven decisions.
Integrations
Pushbio
Pushbio offers dozens of integrations with external platforms. One important one is with MailChimp, allowing you to capture email signups directly from your page. You can also leverage its integration with five payment providers: PayPal, Stripe, Paystack, Razorpay, and crypto.com. This way, you can quickly receive payments for your products or services.
If you're an e-commerce entrepreneur, you'll be pleased to know that Pushbio allows you to add products for sale listed on other platforms, giving you more opportunities to make a profit. And if you have a physical product to sell, you can rely on the Product block to help drive sales.
Bitly
Bitly isn't just a standalone tool; it can be integrated with various online platforms and tools. Connect Bitly to your social media accounts, email marketing tools, and more to streamline your workflow and make link management a walk in the park.
Plans and Pricing
Pushbio
Pricing is a significant factor when using a link management tool. And in this regard, you'll be thrilled that Pushbio has flexible pricing options. It offers both free and paid versions to cater to your specific needs. Here's a breakdown of the pricing options available on Pushbio:
The Free plan
Pushbio's Free plan is an excellent option for those who want to test the waters before diving in. With essential features, it gives you a taste of what the platform offers. It's a great starting point to determine whether Pushbio is the right fit for you.
The PRO plan
If you're looking for an upgrade from the Free plan, then the PRO plan on Pushbio might be right up your alley. For $6.99 per month or $69.82 per year, you get access to more features that make your journey smoother. Plus, if you choose to pay annually, you get a discount.
This plan includes all the perks of the free plan with extra functionality. It's an excellent choice for individuals, influencers, content creators, or anyone working outside a team.
The AGENCY plan
For large-scale businesses or teams that need unlimited access to a rich collection of valuable tools and features, the AGENCY plan option of Pushbio is the way to go. At $20 per month or $199.20 annually, this plan lets you do much more without fear of restrictions or limitations.
It includes all the tools in both the Free and Pro plan, with much more functionality. It's the perfect plan for anyone who wants to take their link management to the next level.
Bitly
The Bitly platform has a couple of payment plans and subscriptions that are also flexible. Here is a breakdown:
Free plan
Bitly has an entirely free plan available. It's perfect for businesses starting or those on a tight budget. While it has some limitations, you can still enjoy many of Bitly's great features without spending a dime.
Starter plan
You can upgrade to the Starter Plan and enjoy even more benefits for just $8 a month (or $96 if billed annually). This plan includes custom domains, link tracking, and unlimited links, making it an excellent choice for small to medium-sized businesses.
Basic plan
Take things to the next level with the Basic plan, which offers even more advanced features such as branded links, campaign tracking, and audience insights. It's perfect for businesses that must take their marketing to the next level. At $29 per month (or $348 if billed annually), it's an investment but one that can pay off big time.
Enterprise plan
The Enterprise Plan is a perfect choice for businesses that want the absolute best of the best. This plan is tailored to your specific needs with custom pricing and advanced features. Get in touch with Bitly directly to create a plan that works for you.
Customer support
Pushbio
Pushbio offers a variety of support options to ensure that you get the help you need whenever you need it. With the live chatbot feature available 24/7, you can easily communicate with support and get assistance.
Alternatively, you can reach out via email, the Pushbio support team is always ready and available to assist you with any issues or questions. Pushbio also provides support through social media channels such as TikTok and Instagram.
So, no matter your preferred method of communication, Pushbio has got you covered. With their friendly and knowledgeable support team always ready to help, you can rest assured that your issues will be resolved in no time.
Bitly
Regarding getting help, Bitly has multiple options, depending on your preference. If you prefer written communication, you can head to the FAQ section or the forum to see if your question has been answered. You can also browse the knowledge base for more detailed information.
If you'd rather speak to someone, you can call the Bitly team, and they'll be happy to assist you over the phone. Alternatively, you can use the live chat feature to get quick help or reach out to them via email.
Pushbio vs. Bitly: Which one to choose?
Before deciding on which tool to use, it's best to consider the use case scenarios for each option. What are your specific needs and goals? Are you looking for a platform to display multiple links on your social media bio? Do you need to create custom domains for your business? Are you looking to sell products or services online? Understanding your unique use case will help guide your decision-making process.
Once you have a clear idea of your needs and goals, it's time to compare the features and functionality of each option. Does one platform offer more customization options or better security features? Is the pricing structure more flexible on one platform? Take a close look at the details and weigh the pros and cons of each option.
Regardless, the decision will come down to your personal preferences and priorities. Do you value ease of use and simplicity, or prefer a platform with more advanced features? Which platform aligns best with your business or personal brand?
Consider all the factors and make a choice that feels right for you. Regardless of your choice, remember that both platforms offer incredible tools and functionality to help you succeed.
Conclusion
In summary, Pushbio and Bitly are excellent tools for streamlining your social media presence and optimizing your online links. With Pushbio, you can create a visually appealing landing page for all your links and direct your audience exactly where you want them to go.
On the other hand, Bitly offers customizable shortened links perfect for tracking clicks and analyzing your online engagement. Both platforms provide free and paid versions with varying functionality, but Pushbio edges out Bitly considerably.

Consolidate your online presence, boost engagement, and start growing your audience with a single link