Making money online has become a sought-after endeavor for many, and every action wants to be turned into a revenue-generating means. One clever way to generate income is by using URL shorteners. These tools take long web addresses and transform them into concise, shareable links. However, not all URL shorteners are created equal, and some can be more profitable than others hence the quest for the best URL shortener to make money.
In this piece, I will help you discover some of the best URL shorteners to make money with. These platforms can help you maximize your earnings in the online realm. Whether you're a budding entrepreneur, a social media influencer, or just someone looking to make a little extra cash, we'll explore the top options and provide insights into how they can boost your income.
Create your own free link in bio page
Ready to simplify your online presence?
With Pushbio, you can;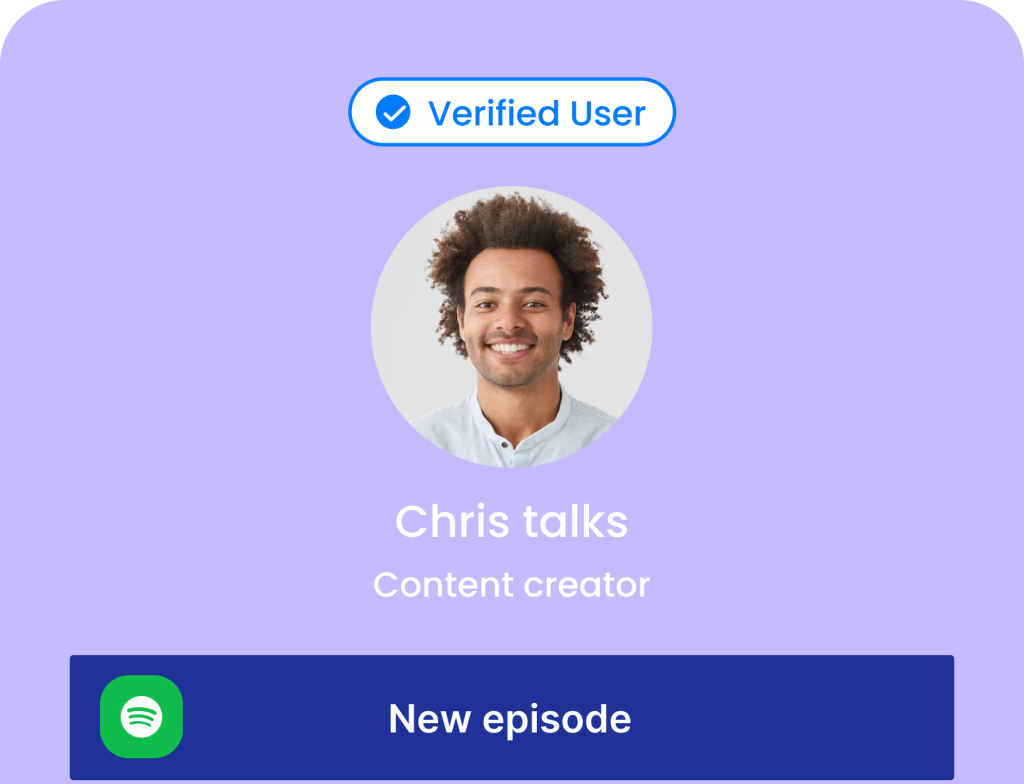 Create your own free link in bio page
Ready to simplify your online presence?
With Pushbio, you can;
6 Best URL shortener to make money
It's crucial to emphasize that making money with URL shorteners is a viable online income strategy. Whether you're aiming to generate passive income or boost your earnings through referrals, there are URL shorteners tailored to your needs. That said, not all URL shorteners deliver on their promise, and some would outright make it impossible for you to earn.
Shorte.st
Shorte.st is a URL shortening service that offers a range of features and benefits to users looking to monetize their links. One key feature is its user-friendly interface, making it easy for anyone to shorten URLs quickly. Its benefit lies in its compatibility with various platforms, making it versatile for social media sharing, blog posts, and more.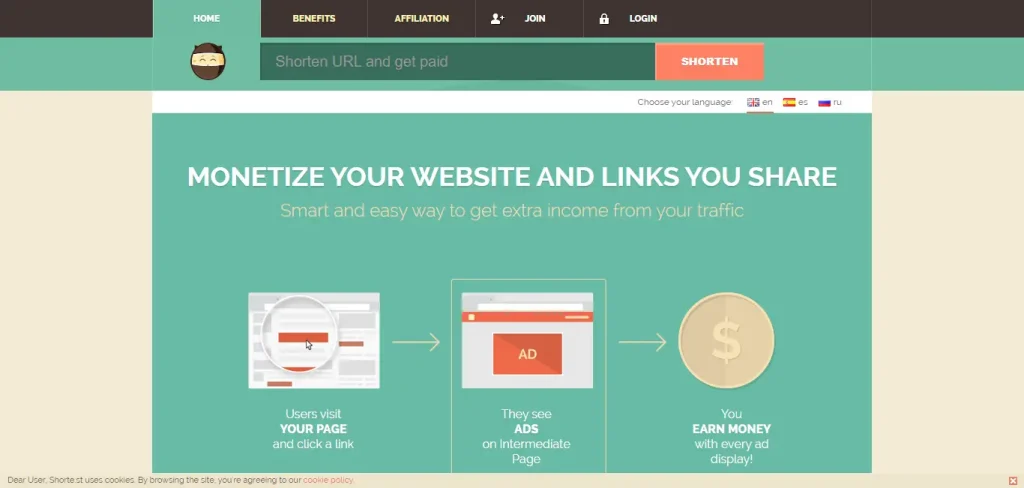 Earning potential with Shorte.st varies based on factors such as traffic source and geographical location. Users can earn money through its advertising program, with payouts per click and views, making it a suitable choice for those seeking passive income opportunities.
For every 1000 visitors from the United States, you'll earn a commission of approximately $14. If your audience hails from the United Kingdom, it's a solid $10. But that's not all – there's a delightful 20% lifelong commission awaiting you for every successful referral. Payouts are available through Bank Transfer, PayPal, Payoneer, and WebMoney, giving you the freedom to choose your preferred payment method.
Linkvertise
When it comes to earning money through URL shorteners, Linkvertise stands out as one of the finest options, especially when you consider their payout for every 1000 views. Its features and benefits revolve around maximizing earnings for users. Earning potential on Linkvertise is substantial, especially for those who can generate high-quality traffic and engage their audience effectively.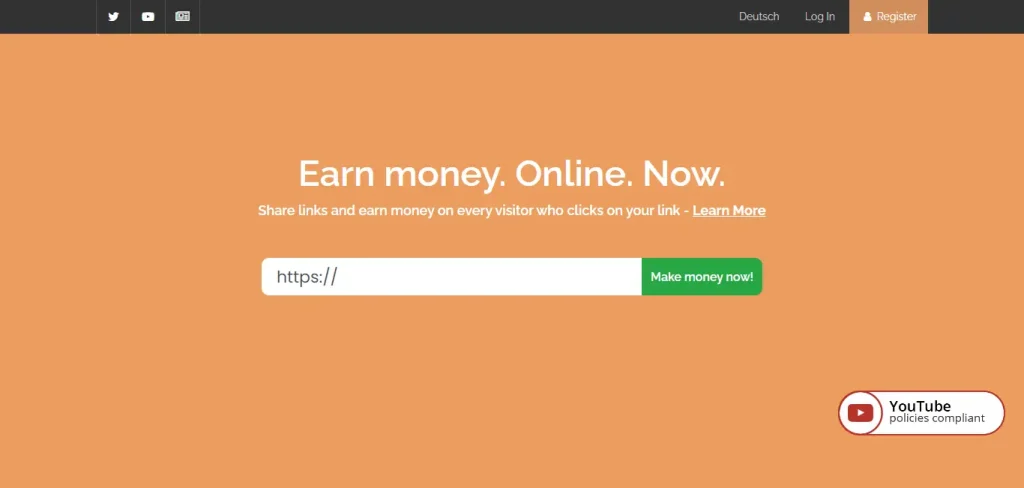 The process of making money with Linkvertise is remarkably straightforward. What's even better is their commitment to a pop-up-free experience while still offering impressive compensation. Users have the choice of receiving their earnings daily through either bank transfers or Amazon coupons. However, it's important to note that before you can request payment, you'll need to have accumulated a minimum of $10 in earnings.
Shrtfly
With Shrtfly, you won't have to wait long to cash in because they only ask for a minimum of $5 before you can request payment. This platform is renowned as one of the top URL shorteners for making money. Upon visiting their site, you'll discover a handy feature that streamlines the link-shortening process. To ensure a spam-free experience, they offer a multi-domain feature.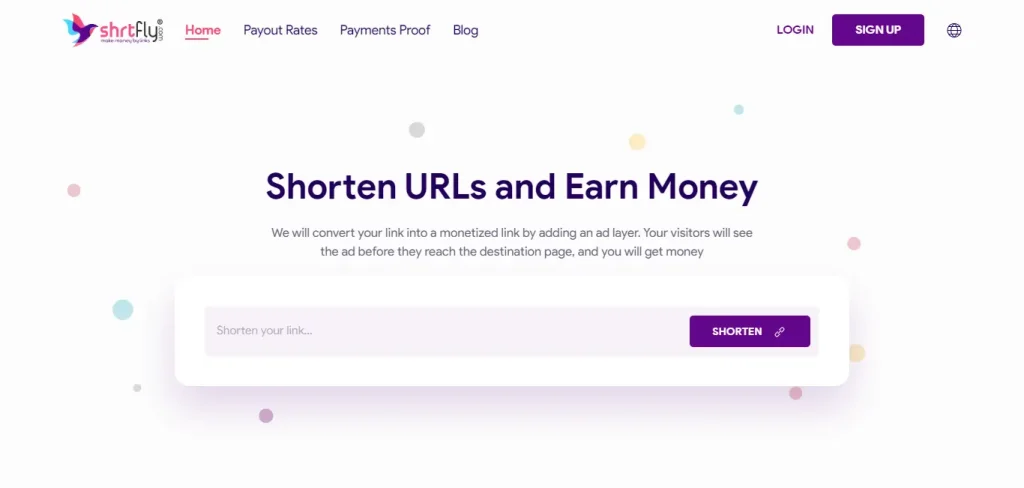 As a publisher, you can monetize your links through banner advertising, making the earning process straightforward. Just use their tools to shorten your links and share them online. You can earn anywhere from $2 to $21 per 1,000 views, depending on the visitor's country. To start earning, all you need to do is create an account. Shrtfly provides various payment methods, including PayPal, Payoneer, Bitcoin, bank transfer, and more. Plus, you'll enjoy a lifelong 30% referral earning.
ShrinkMe.io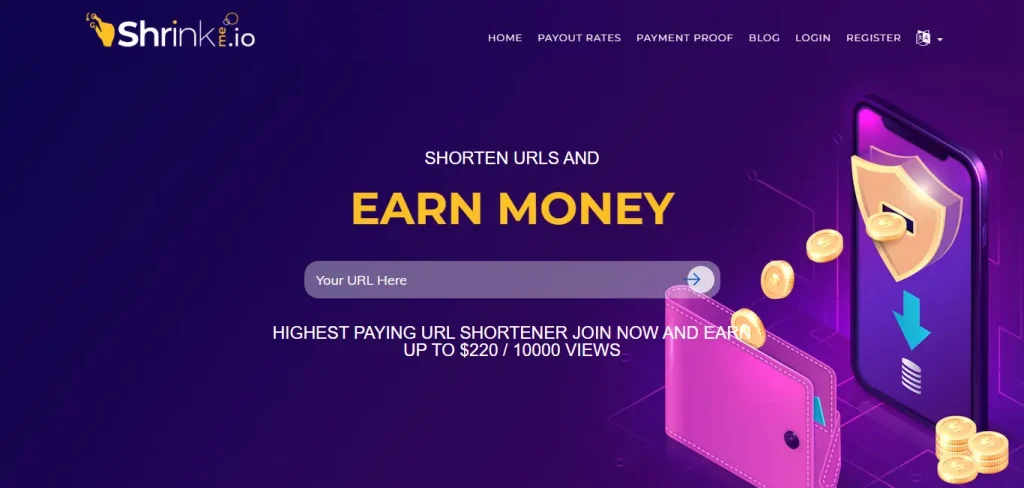 ShrinkMe.io ranks high among the best-paying URL shortener platforms and offers a fantastic user experience. Its attractive website design is easy to navigate. ShrinkMe.io rewards users for clicks on their links, with payment rates reaching up to $20 per 1000 clicks.
The minimum payout is just $5, and they also have a referral program, allowing users to earn a percentage of their referrals' earnings. This means you can make money through link clicks or by referring others to the platform.
ShrinkMe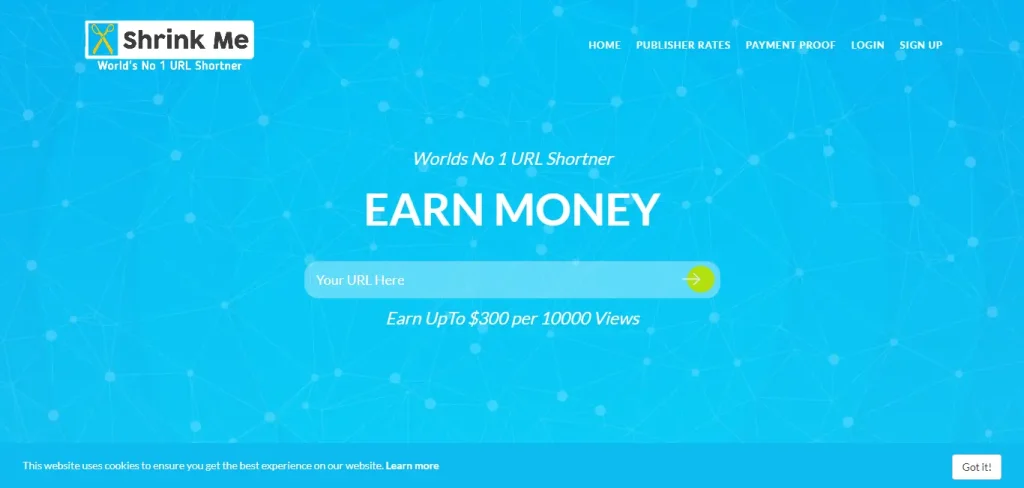 ShrinkMe is yet another platform for making money with short links, offering an impressive $22 for every 1000 views. Earning money here is a breeze. Simply create an account, shorten your link, and start cashing in. It's a free tool, and you can increase your earnings by referring friends and earning 20% of their lifetime earnings. With a low payout threshold of $3, you won't have to wait long to receive your earnings.
They offer solid customer support through Facebook, Skype, or WhatsApp for any queries. Payment methods include PayPal, Bitcoin, Paytm, Skrill, and bank transfers. Additionally, you'll receive a $1 signup bonus when you join.
Pushbio
Pushbio's link-shortening tool is a handy solution for trimming down those lengthy URLs. It's among the top choices for link shortening, and it offers more than just that. While Pushbio doesn't support monetizing shortened links directly, there's still an opportunity to make money. The platform provides a referral earnings feature, allowing you to earn from referring others. So, even if you can't profit directly from your shortened links, you can still benefit from using Pushbio through its referral program.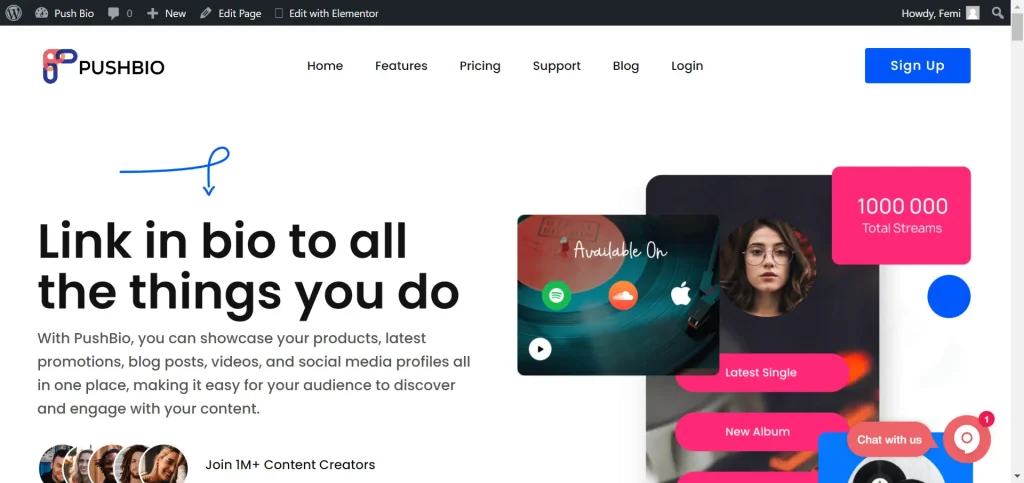 Pushbio provides additional toolkits to help you fine-tune your shortened links, giving you complete control. One of its standout features is the flexibility it offers. You can shrink an unlimited number of links with ease. Pushbio allows you to schedule when your link goes live with a "start and end date" feature. Plus, you can set an expiration date for your short URLs while still redirecting your audience afterwards. There's also gated protection to secure your content and audience.
Creating short links on Pushbio is a straightforward process, but it begins with creating an account on the platform. Once you've done that, follow these steps to shorten your URLs:
Log in to your Pushbio account;
On the dashboard, locate and click on the "Create Link" button;
From the dropdown menu that appears, select "Shortened Link;"
A dialogue box will pop up, providing a space where you can paste your long URL;
Before shortening your link, you have the option to choose between two domain prefixes;
Finally, click the "Shorten URL" button to generate your shortened link.
Which URL shortener is best for making money?
Although the best URL shortener for making money often comes down to personal preference, the Shorte.st platform outranks others. According to user reviews and ratings the platform makes it easy for users to earn money with an equally decent pay rate. the multiple choice of withdrawal it offers also ensures that users can get their money in no time.
Factors for picking the best URL shortener to make money
Determining the best URL shortener for making money depends on various factors, including your goals and preferences. Consider your priorities and explore these options to find the most suitable URL shortener for your money-making endeavors. Here are some other factors to look at:
1. Reliability and uptime
When selecting a URL shortener, it's vital to consider its reliability and uptime. You want a service that consistently works without downtime, ensuring your links are always accessible. Frequent downtimes can negatively impact your online presence and income potential.
2. Payout rates and payment methods
The payout rates and available payment methods play a significant role in your decision. Check the rates per click or view to ensure they align with your earning goals. Additionally, examine the payment options to make sure they are convenient for you, whether it's PayPal, bank transfer, or other methods.
3. User-friendliness and features
A user-friendly interface and useful features can simplify your experience. Look for a URL shortener that is easy to navigate and offers features like link management and customization tools to enhance your efficiency and effectiveness.
4. Analytics and tracking capabilities
Robust analytics and tracking capabilities are essential for understanding your link's performance. Seek a URL shortener that provides detailed data on click-through rates, geographic locations, and referrers. This information helps you optimize your strategies and target your audience effectively.
5. Customization options
Customization options allow you to create branded and memorable short links. Look for a URL shortener that enables you to customize your links with relevant keywords or your brand's name. This enhances your link's visibility and professionalism.
6. Security and privacy considerations
The security and privacy of both your links and users are paramount. Ensure that the URL shortener you choose employs encryption and safeguards against malicious activities like link hijacking. Prioritize platforms that respect user privacy and don't share sensitive data without consent. This ensures a trustworthy and secure experience for you and your audience.
To Sum Up
The significance of selecting the right URL shortener cannot be overstated. It directly impacts your ability to maximize earnings, track performance, and ensure a seamless user experience. Each URL shortener brings its own set of features, benefits, and payout structures, making the choice a critical one. The key is to choose wisely, considering factors like payout rates, user-friendliness, and customization options.

Consolidate your online presence, boost engagement, and start growing your audience with a single link