Social media is now an essential part of any brand's marketing strategy. However, with the limited real estate in most social media bios, showcasing all your online presence links can be challenging. This is where Pushbio and Campsite.bio come in handy.
These platforms allow you to create a landing page with all your important links, so your followers can easily find and access your content. But which one is better for you? In this blog post, both platforms go head to head in a Pushbio vs. Campsite.bio comparison. This piece should help you decide the best fit for your needs.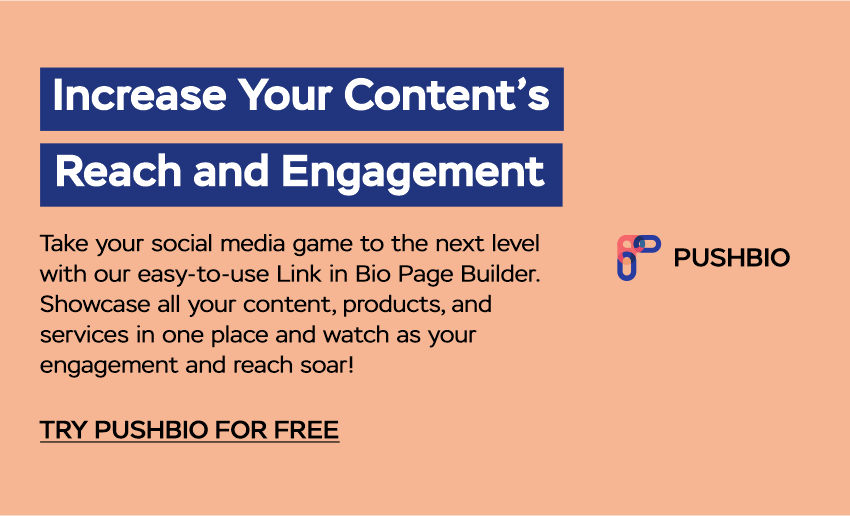 Pushbio vs. Campsite.bio: Differences
1. Overview
Pushbio
Pushbio is a popular online tool that allows you to create a landing page with links to all your social media profiles and other content you want to share with your followers. The beauty of Pushbio is that it allows you to add multiple links to your bio, making it easier for people to find all your content in one place instead of searching for it on different platforms.
Pushbio is a great way to streamline your online presence and give your followers an easy way to engage with your content. Plus, Pushbio provides valuable analytics, so you can track the performance of your links and make informed decisions about what content to share in the future.
Campsite.bio
Campsite.bio is a comprehensive link management tool that allows you to create a customizable landing page that showcases all your social media accounts, websites, and other online presence links.
It is designed to help improve your search engine rankings, user engagement, and online reputation by managing your links effectively. campsite link in bio has quickly gained popularity among content creators and businesses.
2. Ease of use
Pushbio
Setting up a profile on Pushbio is a breeze. The platform's drag-and-drop feature makes creating bio link pages a seamless experience. Even if you're new to the platform, the intuitive features are easy to use and won't require a long learning curve to become a pro. Plus, navigating the site to configure your profile, add content, and publish your landing pages is a breeze. Pushbio has made it super easy for users to get started and start creating.
Campsite.bio
Campsite.bio's interface is designed to be user-friendly and intuitive, making it easy to navigate and use. The main dashboard summarizes your link profile, including the number of links, referring domains, and anchor distribution. The campsite bio login gives you access to various features of Campsite.bio from the dashboard.
3. Landing page customization
Pushbio
Creating a professional-looking page for your brand has never been easier, thanks to Pushbio! With a wide selection of top-notch themes, you can customize your Bio link page to your heart's desire. And if you want to add your personal touch, upload your favicon or adjust the font size.
You can also edit the general theme of your page by selecting from the available options or go all out by creating your custom theme for more personalization. And if you want to make a splash, you can choose a background color, upload a video background, or add an external image.
Campsite.bio
One of the most significant benefits of using Campsite.bio is flexibility. You can customize your landing page to match your brand's look and feel, add your background image, and choose from various font styles and colors.
Campsite.bio offers numerous themes in colors, designs, and even button shapes. With each theme, you can create a unique look and feel that complements your brand or business.
However, compared to Pushbio, the themes available with Campsite.bio have relatively basic designs. That said, Campsite.bio's customization options make creating a cohesive and professional appearance that reflects your brand or business easy.
4. Pricing
Pushbio
Pushbio understands that different users have different needs, so it offers free and Paid plans to cater to everyone's requirements. Here's what you need to know about the various Pushbio plans:
Pushbio's FREE plan is a great starting point for testing the platform's essential features. While this plan provides limited access, it gives you a taste of what Pushbio offers.
If you need a more robust system with more advanced features, the PRO Plan might be just what you need. For $4.99 per month or a discounted rate, if you choose to pay annually, this plan provides all the benefits of the free plan and additional features that will make a significant difference in your daily work.
The AGENCY plan is a perfect choice for businesses that require extensive collections of powerful tools and features. If you're working in teams or have a large-scale business, this plan is best suited to help you work on your projects effectively without any restrictions or limitations. This plan costs $19.99 monthly and provides unlimited access to all Pushbio tools, features, and capabilities, including API access.
So, whether you're just starting or running a large-scale business, Pushbio has the perfect plan. Choose the plan that fits your needs and start creating professional-looking pages for your brand quickly.
Campsite.bio
Campsite.bio offers several pricing plans with unique features and benefits. Here's a breakdown of the plans available:
The free plan ($0): The free-forever plan has all the essential features to help your audience grow. However, in-depth analytics is limited to tracking views, clicks, referrals, geolocation, and more. The good news is that you can access unlimited links, so you can still create as many links as needed.
Pro Plan ($7 per month and $70 per year): With the Pro Plan, you get access to all of the features included in the Free Plan and unique additional features. This consists of three profiles, premium integrations like Opt-in forms and Tracking Pixels, and the ability to add your domain to your profile for a custom URL.
Pro+ Plan ($24 per month and $240 per year): If you want to take your bio links to the next level, the Pro+ Plan is the way to go. This plan allows you to add your team with four collaborators, allowing you to work on your links together. Additionally, you can view lifetime analytics for all your profiles, giving you a better understanding of how your links perform over time.
Note that all paid plans come with a 10-day trial period, so you can try out the features before committing to a paid plan.
5. Link customization
Pushbio
With Pushbio, you can create custom domains for your brand, which can help to give your business a professional image. The platform allows you to create links to files that can be easily accessed by anyone you share the link with.
VCards are another great feature to improve your brand visibility on Pushbio. With VCards, you can easily create a virtual business card that provides your audience with your contact details and links to your social media accounts.
Additionally, you can create a Leaplink, a unique link that sends your audience directly to a specific URL of your choice when they click on your bio link page. To make your links more manageable, Pushbio has a link-shortening functionality that helps to shrink the length of the links.
Pushbio has a simple interface that makes creating QR codes easy and fun. QR codes are an excellent way to drive traffic to your website or other digital platforms, and with Pushbio, you can create them in just a few clicks.
Campsite.bio
Campsite.bio is an excellent tool for managing your links, and it offers some advanced link types that can take your link-building strategy to the next level. The Carousel link is a unique link that allows you to cluster multiple links through images in a carousel format. You can scroll left or right between different photos to access various links.
The Embed link is another advanced link type offered by Campsite.bio. This link allows you to embed your Facebook page, Spotify music, Twitch profile, Vimeo link, or YouTube page directly on your website. Additionally, you can also use the option for a divider, enabling you to categorize different links.
6. Link Tracking
Pushbio
Pushbio allows you to track the performance of your bio link page by integrating various tracking pixels. With Pushbio, you can place tracking pixels on your link to collect essential visitor data. This is critical in helping you optimize your bio link page to serve your audience better and increase your conversions.
Pushbio also supports the integration of Google Analytics through the Google Analytics Universal ID and the Google Analytics Measurement ID. This integration allows you to monitor bounce rate, session duration, and page views. You can make data-driven decisions to improve your bio link page's performance.
Campsite.bio
With Campsite.bio's link tracking feature, you can easily keep tabs on all the links on your website, including internal and external links. This feature makes it a breeze to identify broken links, which can hurt your website's user experience and search engine rankings. What's more, Campsite.bio's link tracking feature provides real-time updates on the performance of your links, giving you insight into how they are performing and what needs improvement.
7. Monetization
Pushbio
Pushbio offers seamless integration with five payment providers: PayPal, Stripe, Paystack, Razorpay, and crypto.com. This means you can quickly receive payment for your products or services hassle-free.
Additionally, for e-commerce entrepreneurs, it provides a unique opportunity to add products for sale listed on other platforms, opening up more revenue streams for your business. And if you have physical products to sell, our Product block can help you drive sales by displaying your products beautifully on your Pushbio page.
Campsite.bio
With the platform, you can earn money in a variety of ways. One option is to take requests from your followers and get paid for your work. You can also collect tips or raise funds from your audience, allowing them to show their support for your creative endeavors. If you want to monetize your content, Campsite has got you covered.
Connect your PayPal account directly to Campsite to collect donations or take requests to make things even easier. And if you're already using Ko-fi, you'll be happy to know that you can embed your donation panel directly into your Campsite profile, making it simple for your followers to support you.
8. Integration
Pushbio
Pushbio provides integration with MailChimp, which allows you to capture email signups directly from your page. You can also showcase your creative work to the world by quickly adding your music, videos, and podcasts to your Pushbio landing page.
This is possible by leveraging the platform's integration with various media hosting services such as YouTube, Vimeo, SoundCloud, Spotify, Twitch, TikTok, Apple Music, Tidal, Anchor FM, RSS Feeds, and many more. This means you can easily share your media content with your audience, no matter what platform they prefer to use.
Campsite.bio
Campsite.bio provides several integrations with various platforms to help you enhance your user experience. One of the most exciting features is the ability to collect email signups and add them to your ActiveCampaign lists.
This integration allows you to capture and manage potential leads seamlessly in your email marketing platform. Another great integration is the ability to design images using Canva directly within the Campsite app. Also, if you're a Twitch streamer, you can embed your videos directly into your profile, making it easy for your followers to catch up on your latest streams.
Additionally, you can collect email or phone numbers and add them to a Google Sheet, making organizing and managing your leads easy. If you use Blogger or Medium to publish your content, you can pull in your articles and showcase them on your Campsite profile using the feed link feature.
9. Safety and Security
Pushbio
Pushbio values your privacy and account security. That's why the platform offers various security features to protect you from phishing attacks and ensure your account is always safe. With Pushbio's anti-phishing code feature, you can validate the authenticity of every email you receive from the platform.
Additionally, Pushbio has a two-factor authentication process that adds an extra layer of protection to your account. This process requires a unique 6-digit code that changes every time you log in, ensuring that only you can access your account. With this feature, you can rest assured that your account is safe from unauthorized access.
Pushbio also offers a sensitive content lock feature that helps protect the sensitive or personal information that you may not want to be viewed by the public. Only visitors with the correct code can access the data behind a sensitive lock by setting a unique unlock code. With these security features in place, you can enjoy the full benefits of Pushbio with peace of mind.
Campsite.bio
The Campsite.bio platform also understands the importance of privacy and security regarding your content. That's why they offer robust, sensitive content tools to ensure your data stays safe and compliant with regulations.
The sensitive content filters enable you to protect your sensitive, personal, or offensive content, preventing unauthorized access by the public. With this feature, only visitors with the unlock code can access the content behind the sensitive lock. You can also download your analytics data as a CSV file for further analysis and sharing with your team.
Which platform is better for use?
Pushbio and Campsite.bio are great options for creating a social media landing page. However, the best choice depends on your specific needs and preferences.
If you're looking for a quick and easy solution with a growing user base and an eye for added innovation, Pushbio may be the way to go. It's a proven tool for creating a rich landing page, and many influencers and businesses have succeeded.
On the other hand, if you're looking for a relatively customizable and data-driven solution, Campsite.bio is a great option. Its flexibility and analytics make it a powerful tool for optimizing your social media strategy and brand-building.
Conclusion
Ultimately, Pushbio and Campsite.bio are valuable tools for creating a social media landing page. By taking into account each platform's unique features and considerations, you can make an informed decision on which one is the best fit for you. After comparing the features of Pushbio and Campsite.bio, it's clear that both platforms have their strengths and weaknesses. Ultimately, the best choice depends on your specific needs and preferences.